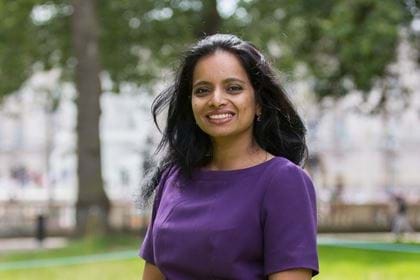 Abha leads our Social Finance work across South Asia. She is a founding member of The British Asian Trust and has contributed to its design and leadership during the start-up years and now to its growth.
Abha has over 15 years' experience working on strategic programmatic solutions, tackling complex issues throughout South Asia. Her expertise and ability to leverage key cross-sector partnerships has led to the development of our flagship programmes in the region. Abha has also been a crucial driver of the development of innovative social finance mechanisms, heightening the Trust's entrepreneurial approach to philanthropy to meet Sustainable Development Goal targets. In recognition of British Asian Trust's work in this area, Abha is also a Fellow of Practice 2020 at the Go Labs, Blavatnik School of Government, University of Oxford.
Abha has extensive experience of creating and nurturing philanthropic, business and cultural relationships between the UK and South Asia and practical experience of both the private and not-for-profit sectors. Before coming to the Trust Abha was the Chief Operating Officer of the UK India Business Council after five years in the Reinsurance markets in London. She grew up in Mumbai, India and graduated with a BA in Political Science from the University of Mumbai and a BA Hons in Social and Political Sciences from Cambridge University.