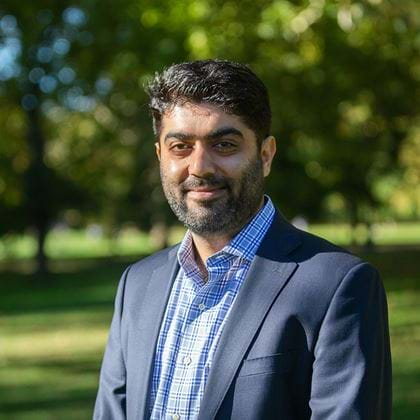 Karan joined the British Asian Trust in June 2017 as the Programme Manager for India. He is responsible for managing all existing programs in India, as well as for expanding the Trust's work and partnerships in the country.
Karan comes with extensive experience in the development sector, particularly in public sector and philanthropy advisory. Prior to joining the British Asian Trust, Karan was working with the public sector practice at the Boston Consulting Group, where he worked with the Government of Rajasthan to improve public service delivery for various departments including women and child development, and drinking water. He also worked closely with the Chief Minister's Office in Haryana to set up internal monitoring processes.
Karan also worked previously with Dasra as the Team Lead for the Dasra Girls Alliance, where his responsibilities included setting up the platform, designing and managing the Dasra Girl Power Awards, managing key donor relationships, and building capacity and partnerships with adolescent girls focused organisations. Prior to Dasra, Karan worked with PRS Legislative Research, where he provided policy and legislative research support to Members of Parliament, and with the Singapore Economic Development Board.
Karan has a Master in Public Affairs from Princeton University, and previously graduated with a Bachelor of Science in Economics from the Singapore Management University.