British Asian Trust joins ECB as a strategic partner for its Action Plan to engage South Asian communities in cricket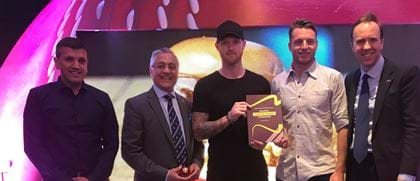 We are delighted that the Trust is to be a strategic partner for the England and Wales Cricket Board's (ECB) drive to engage South Asian communities with cricket in Britain.
The announcement was made at an event on Sunday 13 May, attended by the Secretary of State for Digital, Culture, Media and Sport Matthew Hancock, Lord Patel of the ECB and British Asian Trust Chairman Manoj Badale at the JBCN International School in Mumbai.
The ECB last week launched a wide-ranging Action Plan to transform the way it engages with South Asian communities to draw more players, fans and volunteers into every level of the game.  Plans include the creation of 20+ new Urban Cricket Centres and the development of 1,000 non-turf pitches and 100 turf pitches by 2024, piloting the implementation of 'Community Talent Champions' to scout talent previously missed by the scouting system and the awarding of bursaries to talented young South Asian players.
Welcoming the plan and highlighting the role of the Trust, our Chairman Manoj Badale said:  
"The British Asian Trust is delighted to be a strategic partner for the ECB Action Plan in engaging the South Asian Community in the UK. It is a great strategy that supports the South Asian Diaspora in the UK to engage with cricket"
"We are committed to help the ECB identify, over the next three years, significant funding from the Trust's network to help deliver this strategy.
 "This plan represents a real step change from the ECB. They have invested significant time and energy in understanding how to engage with South Asian communities in the right way. We are excited about the opportunities this will create for South Asian communities to get involved in all levels of the game."
Secretary of State for Digital, Culture, Media and Sport, Matt Hancock MP said:
"Cricket is a common language that unites communities at home and across the world. I'm absolutely delighted that the British Asian Trust are coming to the table to support this initiative. I'm excited to see their work with the ECB to harness the passion for cricket in South Asian communities and get more people playing and watching this wonderful sport." 
Lord Patel of Bradford, the ECB Senior Independent Director, who has driven the development of the Action Plan, added:
"I have seen first-hand the passion South Asian communities have for cricket. This Action Plan will make sure that cricket is a game for everyone and that our sport is reflective of modern communities across the county.
We know that working closely with key partners will play a vital part in making this a success. The partnership with the British Asian Trust is great news for the game and is an important first step in making our ambitions a reality."