PCB and British Asian Trust announce strategic partnership to transform mental health in Pakistan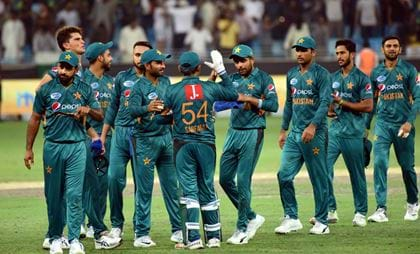 We are delighted that the British Asian Trust has entered a three-year strategic partnership with the Pakistan Cricket Board (PCB). The partnership provides a unique opportunity to use the voice and reputation of the PCB and the Pakistan cricketers to challenge the stigma around mental health and wellbeing, and help create long-term change in Pakistan.
Mental health problems affect one in every four people in Pakistan – over 50 million people. However, there are less than 400 psychiatrists in the country – one for every 125,000 people affected. This represents a huge cost, not only to individual lives and their families, but also to the national economy and future prosperity.
The PCB will support the British Asian Trust's work through events, site visits and joint campaigns, starting with members' attendance at the launch of the 2019 Ramadan appeal, at The Savoy, London, in aid of our mental health work in Pakistan.
The partnership will shine a light on the issue of mental health in Pakistan, helping people understand that there are services available to support individuals and families, and encouraging them to speak out and seek help. It will address the pressing need in Pakistan to normalise the conversation around mental health and wellbeing, in the hope that more people will seek help.
It builds on the British Asian Trust's existing work with local partners to deliver mental health services and challenge perceptions on the ground in Pakistan.
As part of the partnership, Pakistan cricket players and staff will be encouraged to learn more about the issue and then speak out about it. This will include visits to local projects in Pakistan so they can find out about the work being done in country as well as meetings with individuals and families affected by mental health issues.
The first of these visits took place in March 2019, with Wasim Khan MBE, Managing Director of the PCB, visiting British Asian Trust's partner in Korangi, Karachi. to witness first-hand the work being done on the ground around mental health.
PCB Managing Director, Wasim Khan, said: "We are delighted to be partnering with the British Asian Trust in what will be a ground-breaking partnership.
"Driven by our values, we believe that cricket has a huge role to play as both a catalyst for change and as a force for good. The work of the British Asian Trust within Pakistan has made a huge difference in supporting mental health and wellbeing amongst some of our most vulnerable people.
"Mental health remains a taboo subject in Pakistan; having personally visited a mental health project in a poor area in Karachi, I have seen first-hand the difference that resources and skilled practitioners can make on the ground.
"As the PCB, we have an opportunity to play our part in raising awareness of this important cause. The lack of education and understanding means that the condition goes undetected; which can have a devastating impact on the quality of life for both the individuals and their families.  
"Like many countries, the taboo surrounding mental health problems means that hundreds of thousands of citizens don't receive treatment, or any kind of support. We as the PCB believe it is important that we use our standing in Pakistan society to stand up and encourage people to seek help.
"The funds raised at the dinner in London on 25 April will be spent on helping to build and expand on the great work already being done in places like Karachi.
"We look forward to building on this work for years to come."
Richard Hawkes, Chief Executive of the British Asian Trust, said: "We're delighted to find a partner in the PCB who shares our commitment to tackle the mental health crisis in Pakistan.
"Since 2018, we have significantly stepped up mental health support in Pakistan. As well as working with local partners to provide much needed services, we have always recognised that lifting the silence on mental health and educating communities is paramount to achieving real long-term change.
"Cricket is part of the lifeblood of Pakistan. We're hugely excited by the potential of working with a highly credible body and a high-profile cricket team to raise awareness and challenge stigma around mental health, both in Pakistan and internationally.
"The British Asian Trust has been supporting mental health programmes in Pakistan since 2011 and scaled up this work substantially in 2018. It helps to transform the situation for people with mental health issues in Pakistan, working with local partners to develop services, train specialists, reduce stigma and change public perceptions."
Photo courtesy of PCB