Rohit Chadha and The Most Exotic Challenge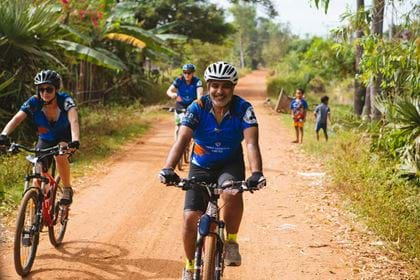 "People generally only excel in something they enjoy and the same should be true of philanthropy"
Rohit Chadha says that as his 50th birthday approached, he reflected on the incredible hardships and sacrifices made by his parents and others in their generation, who emigrated from South Asia and left behind the social and emotional safety net of family, in the hope of a better life for their children.
Rohit pondered on how truly privileged and fortunate his generation were as a direct result of the decisions taken those few decades earlier. Rohit debated with his friends that whilst they could never make as bold and brave sacrifices as their parents, that they were of an age and stage in their lives with young families that they need to explore how they can make a transformational impact for others much less fortunate.
Conscious of the level of injustice and poverty right across the world, Rohit decided to focus his efforts on South Asia, his 'natural, spiritual home' where future generations could also seek out a better life than before.
We were very fortunate that, impressed by our team, he chose the British Asian Trust as his charity partner.
Rohit felt that the British Asian community, especially his generation, could be doing more in their philanthropic efforts and he was personally motivated to do something with a deeper commitment and encourage others to get involved. "I felt if I could make raising money fun and exciting then others would also join, and the truth is I've always been quite good at organising and cajoling people!", he said.
As Rohit's wish to make a difference grew more focused, rather than arrange a fundraising dinner, he settled on a sporting activity and chose cycling as it was something he enjoyed, and most people would be able to participate.
The other added benefit would be keeping healthy at the same time which was a common priority among friends. With that in mind he came up with an idea to arrange cycle rides in 'exotic' locations and gave the event a catchy tagline - 'The Most Exotic Challenge'.
He spoke with his friends, including Tom Singh (a key member of the Trust's UK Advisory Council) about an idea to cycle in exotic places. Their response was enthusiastic: "You do it and we'll follow!"
That initial plan to get fit, have fun and make a difference, gathered momentum. It is now in its fourth year, with previous superb rides in Rajasthan, Cambodia and Tanzania.
Rohit has committed to two further two trips, setting a target to raise a grand total of £1m over five rides. "I'm very goal driven. If I set myself a target, that's enough motivation," Rohit said.
In July 2018, Rohit travelled as a member of our Founders Circle on a 'Seeing is Believing' visit to two of our projects in India. He said: "Supporters can of course just donate, but people often need to know why and where they are giving. If you're an Ambassador or Patron, to inspire and motivate others we have a moral obligation to vet and validate the charity's work."
The group first visited Bhim Nagri Primary School in Delhi, where intervention from our partner TEA is significantly improving learning outcomes.
TEA (also visited by HRH The Prince of Wales during his recent trip to India) is helping catalyse a transformation in India's education system by nurturing a Government-Partnership School model. In South Delhi, the British Asian Trust is supporting TEA to implement this in 20 schools, reaching 3,500 children and 100 teachers. The project aims to increase school enrolment by 25%, increase attendance to 75% (from an average 65%) and improve learning outcomes in line with private school benchmarks.
It is judged that just £100 per child can transform their education and pave a way out of poverty. The 'Seeing is Believing' visitors witnessed the school's integrated teaching methods, including an outdoor maths and gardening lesson. Rohit says he was struck by the high standard of the five-year-olds' handwriting, and their ability to count in English. And he said of the programme: "With a bit of love, care, experience and of course money, such a school can bring pupils to life."
The second partner visit was to a children's centre run by Taabar, an organisation providing community-based programmes for orphans, runaways, street, slum and other disadvantaged children. For Rohit this was another powerful example of how the British Asian Trust is tackling injustice. Our project with Taabar focuses on identifying, rescuing and rehabilitating young boys forced into bonded labour. Children, sometimes orphaned but sometimes handed over to labour contractors by their poor or negligent families, are trafficked from Bihar in north east India to Rajasthan in the north west. Because of their small nimble fingers, children are forced to work on fine but hazardous tasks such as bangle and jewel polishing.
The group met boys affected, physically and mentally, by the inhuman conditions in which they had lived and worked – with little food, light or fresh air. Some had experienced being tied up for 15 hours a day and beaten with metal rods. At the centre, where rescued children receive regular schooling, the group enjoyed part of a play the boys were performing. Through Taabar's programmes, children are given opportunities to increase their dignity and self-respect. The British Asian Trust was delighted to arrange for 35 of these children to watch an exciting IPL match between the Rajasthan Royals versus Bangalore.
Although centred around our programme work, the trip also included some special relaxation and enjoyment for the group.
In Jaipur they were treated to a pitch-side view of the training session of the Indian Premier League's Rajasthan Royals (owned by the Chairman of the British Asian Trust, Manoj Badale OBE) – managing to catch Joss Butler in action! They stayed at the jewel of Jaipur, the magnificent Taj Rambagh hotel, where they enjoyed the elegance of the grounds, palace and Mughal-Rajput architecture. Of such a trip Rohit said: "It galvanises people".
Next up is Rohit Chadha's own galvanising trip. The Most Exotic Challenge 2019 is taking place in Sri Lanka from c.7 - 12 November. Get those cycle-legs ready team and we wish you a wonderful time.