How would you cope if your father were a drug addict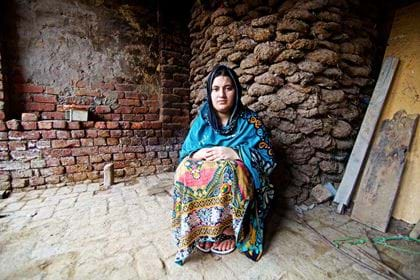 As a girl born into poverty, the chances of her ever fulfilling her potential were slim. A drug-addicted and abusive father reduced her chances in life even further. 'My father beat us on a daily basis. Once winter, he came and threw my mother out and gave us cigarette burns. He had a stick with nails attached. He tortured us with it whenever we went to sleep.' It's hard to imagine the abuse suffered by this young girl and her mother. 'I don't have beautiful memories of my childhood', explains Shaheen with heart-breaking understatement. If you imagined that such experiences have left Shaheen bitter or broken, you would be wrong. Today she is determined and positive in outlook. And more than anything, she wants to create a good life for her mother and her siblings.
'Now I wish to get some job to make it easy for my mother not to work, so she can stay at home and look after my siblings. I just want my family to be happy.'
While Shaheen's story is thankfully not typical, her lack of a chance in life is common to many thousands of young girls across South Asia. Poverty, prejudice, lack of education, these are all huge barriers to any girl intent on fulfilling her potential.
The British Asian Trust is already helping girls like Shaheen to learn the skills that will enable them to work, have a chance in life, and even start their own businesses. It's transformational for the girls we help. And now through our Give a Girl a Future appeal we aim to help literally tens of thousands more girls.
To provide an entire year of support and training costs £60. So for the equivalent of just £5 a month you can actually help to transform lives. You can do that right now. Will you help girls see a future, where before they could see none? Will you help girls see that in a world of injustice and inequality, they can have a chance?
Your £60 can bring optimism, confidence, and a real sense of dignity. Your £60 can help girls learn skills, set up in business, and market their produce – such as beautiful embroidery.
No matter what you choose to give you will make a real difference.
What is more, every donation will be doubled by the UK government. Thank you so much for whatever you can give. Together, we can transform lives.