Meet Elensia: The Girl Who Was Almost Lost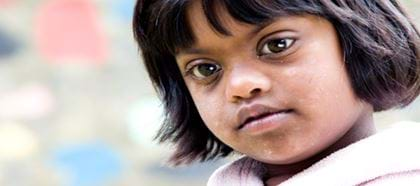 Elensia was born with Down's syndrome and was very prone to sickness, especially chest infections, which would keep her in hospital for long periods. She was born into a disadvantaged family on the tea estates in Nuwara Eliya, Sri Lanka, where her mother is a tea-picker and her father is a labourer. For a long time, the family did not know what was wrong with the baby and struggled with the added financial pressures of caring for her.
Whilst her parents were at work one day, Elensia became very sick in the care of the estate crèche. Poorly trained and unable to understand Elensia's needs, the care attendants had left her on the wet cement floor with a rag cloth in her hand, crying out to be carried. Her health deteriorated and she was hospitalised once again.
This is when one of the outreach hospital clinic staff from our partner organisation MENCAFEP met Elensia and realised how desperately she was in need of appropriate medical attention. They remarked that at 14 months old, Elensia looked more like a 4-month old baby hopelessly fighting for her life.
With our support, the organisation provides disabled children and young people with a range of special education programmes to prepare them to be independent and self-sufficient.
The team admitted Elensia into the organisation's Respite Care Unit, where she was given the continuous attention she needed by a dedicated staff member – warm clothes, blankets and different baby food – and eventually Elensia recovered. The team stayed on hand every time Elensia was rushed back to hospital and nursed her back to health each time.
Since then, Elensia has been supported through the MENCAFEP Family Group Home and pre-school where she has been helped with speech, music and play therapy. Now aged seven, Elensia is adored by all the staff and children at the Family Group Home and also attends Sunday school – a new life for a little girl who almost did not make it.