A partnership to change lives; British Asian Trust and BT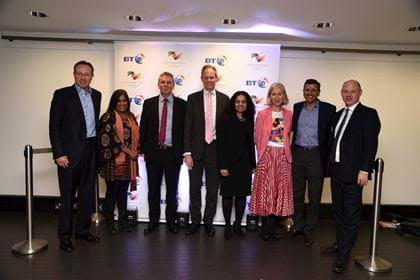 The British Asian Trust and BT (British Telecom) held an event, in March 2019, at the BT Tower in London to launch a three-year partnership to empower adolescent girls in India. From the venue to the panel discussion, the quality of the speeches and calibre of attendees' present, it could not have gone better.
Tailored to maximise the strengths of both the British Asian Trust and BT, the project will use technology such as apps, videos and other interactive digital technologies to empower adolescent girls in India. The programme has been designed to achieve scale and impact to fulfil the aim of helping to improve educational opportunities, health and skills of around 500,000 young people; giving them greater control over their futures. 
The event included some notable attendees: Philip Jansen, the new Chief Executive of BT, welcomed everyone and Matthew Rycroft, Permanent Secretary at DFID, was Chief Guest and keynote speaker. This was followed by a panel discussion chaired by Andy Wales (Chief Digital and Sustainability Officer) with Matthew Rycroft, Liz Warner (Chief Executive), Sohini Bhattacharya (Chief Executive) and Abha Thorat-Shah (Executive Director Programmes and Partnerships at the British Asian Trust). They discussed the importance of collaboration between the not-for-profit and private sectors in order to promote innovation and non-traditional approaches to development. 
It can clearly be noted that the British Asian Trust has found the perfect partner in BT for this project, because of BT's long-standing presence in India and their expertise in technology. The British Asian Trust will have the support of not just BT's technological expertise but also their longstanding experience and their ability to galvanise their team of 10,500 BT staff in India to gain traction. 
Coupled with the British Asian Trust's strong track record in delivering ambitious and innovative projects, we believe that this will be a fantastic opportunity for tackling development challenges and promoting economic development through scalable solutions. The British Asian Trust also identified brilliant in-country partners who will be tackling gender-based discrimination, by working in schools and communities; providing training in rights-based perspectives on gender equality in workshops and classrooms; designing content for young people that connects employability and skills training with gender norm change and equipping a number of girls' schools with quality WASH (Water, Sanitation and Hygiene) infrastructure.
The project will use technology to manage large-scale change processes and to monitor behaviour change at individual level. We are excited by the potential of this project as well our partnership with BT.