Impact Investment in India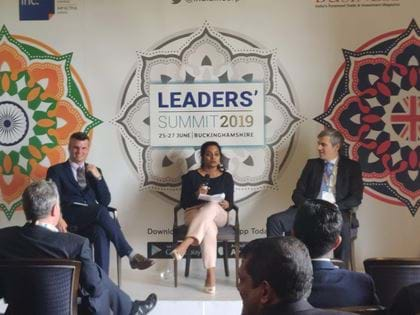 At the UK-India Week Social Impact Forum hosted on 26 June 2019 by the British Asian Trust, leading figures in UK development, business, government and philanthropy came together and backed India as the best place in the world for impact investing.
"The potential of social finance outcome funding is huge: if just 1% of global capital market investment was dedicated to it, we could fill the SDG funding gap."
Abha Thorat-Shah, Executive Director (Social Finance) at the British Asian Trust and named one of India Inc's '100 Most Influential in UK-India Relations' in 2019.
Why India?
Indian society and economics have undergone enormous change since the 1990s. Its GDP continues to grow steadily, and it is classed as a middle-income country by the World Bank. During this time, the country has emerged as a dynamic hub for social enterprise and entrepreneurialism; there is willingness by state and national government to work with businesses and other third parties; and the increasing climate of innovation is spreading to the development sector.
Development and impact investment
Money for development in India is coming in from Government, corporate social responsibility funds, a growing Indian philanthropy market and impact investment.
India is already a very important place for impact investing. Between 2010 and 2016, the impact investment sector in India attracted more than $5.2bn and over $1.1bn was invested in 2016 alone.
Impact investing is attractive to stakeholders because it shifts the focus from upfront funding of inputs and activities to outcomes funding, based on results.
"India is proud to be at the forefront of an entrepreneurial approach to philanthropy and we look forward to working with the development sector in the UK to take impact investment in India to a new level in the coming years."
Dr Rajiv Kumar, Vice-Chairman of the National Institution for Transforming India, a Government of India policy think tank, said that India was ready to lead the charge on pursuing outcomes-based funding to tackle development issues.
Engaging the South Asian diaspora
According to a newly published report on UK-India relations by the UK Foreign Affairs Select Committee, contributed to by the British Asian Trust, the Indian diaspora in the UK is hugely important for developing personal and professional ties between the UK and India. The report urges the Foreign and Commonwealth Office to work more closely with the diaspora, promoting talent from the community into bespoke roles for engaging Indian businesses and policymakers.
Initiatives in impact investing
Last year, led by the British Asian Trust and an impressive consortium of public and private sector partners, an $11m Education Development Impact Bond (DIB) – the world's largest education DIB – was launched in India. Through funding of local education NGOs, this DIB aims to improve literacy and numeracy skills for hundreds of thousands of children. This example of social financing has the potential to transform the way education is funded in India and of improving the lives of this and successive generations.
The future
As part of their commitment to strengthening UK impact investment in India, the British Asian Trust and India Inc, the organisers of UK-India week, have announced that they will create a Global Diaspora Social Impact Summit in India in 2020. This Summit will bring the diaspora together to consider how to work with the private sector and government to further social impact in India.