UK India Week 2018: British Asian Trust plays key role as 'Social Impact Partner'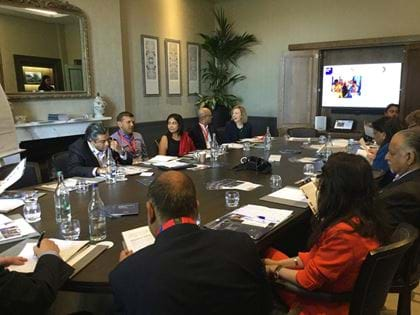 Earlier this month, the British Asian Trust was honoured to be the 'Social Impact Partner' for the highly influential 'UK-India Week 2018' activities based in London and Buckinghamshire.
UK-India Week 2018, which took place between 18-22 June, celebrated the strong partnership between the UK and India as a catalyst for promoting opportunities for future collaboration. The week commenced with the launch of India Inc's popular '100 Most Influential in UK-India Relations' power list. We were delighted to learn that the British Asian Trust's Executive Director Hitan Mehta was honoured in the list for his fantastic contributions to strengthening UK-India relations. A very well-deserved accolade!
The week also featured the 5th annual UK-India Leadership Conclave; a landmark event for identifying ways to grow and transform the strategic partnership between the UK and India. The Trust played a key role during the Conclave by curating a special panel discussion entitled 'Multiply Your Social Impact in India' with our Chairman Manoj Badale leading the discussion. The panel addressed the ways in which the CSR clause in the Indian Companies Act could be leveraged to solve society's critical problems and explored the complexity of scaling impact to meet social challenges in India.
Commenting on the panel discussion, Manoj said: 
"The event brought together some fantastic leaders from across the CSR field to share their experiences and best practice for achieving measurable and impactful change on the ground in India. The discussion didn't shy away from exploring some challenging aspects of scaling change and the importance of collaboration and multi-level engagement to achieve sustainable and long term improvements to the lives of marginalised communities".