UK-India Week - a time to look at the private sector's role in development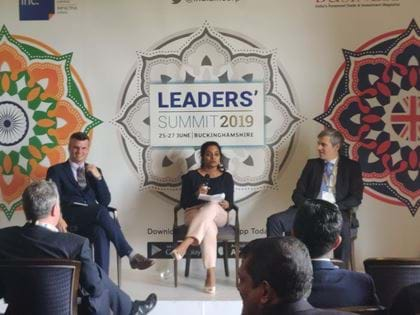 A new era of private sector-led development has arrived in India: leading businesses and financial institutions are generating social impact on a national scale to meet India's development challenges. This news article summarises this and other key points from the British Asian Trust's Social Impact Forum; a meeting of key influencers from across government and the private sector, at the prestigious Leaders' Summit during the 2019 UK-India Week, which took place in June.  
The forum consisted of two high level panel discussions chaired by the British Asian Trust's Richard Hawkes and Abha Thorat-Shah with around 100 people in attendance.  
Speakers included Crispin Simon, Her Majesty's Trade Commissioner for South Asia and British Deputy High Commissioner for Western India; Prabhat Pani, Head - Partnerships & Technology, Tata Trusts India; Andy Wales, Chief Digital Impact & Sustainability Officer, BT; Phil Stevens, Head of Private Sector Department, UK Government Department for International Development; Tom Hall, Executive Director, Head of UBS Philanthropy Services UK; and Christian Pettenkofer, Executive Director Capital Relief Transactions, Munich Re.    
The contemporary role of the private sector in development is often limited to philanthropic grant-making through discrete Corporate Social Responsibility departments. While there will always be a place for traditional grant-making, it is completely insufficient to meet the challenges posed by the Sustainable Development Goals in a country shortly to become the world's most populous. 
"The role of private sector actors can go far beyond grant-making to transform social outcomes for communities at the bottom of the development pyramid,"
said Richard Hawkes, Chief Executive of the British Asian Trust. "By driving economic activity that creates business value and social good simultaneously, responsible business and social finance initiatives hold huge potential to positively impact development indicators and gender justice across key sectors such as education, health, and finding decent work for a huge youth population." 
Responsible Business 
Responsible business is no longer about having a charitable arm donating a portion of profits but generating profit through market solutions that contribute to sustainable development. Crispin Simon, Her Majesty's Trade Commissioner for South Asia and British Deputy High Commissioner for Western India, pointed to the joint £240m Green Growth Equity Fund as an example of "how the UK and Indian Governments are promoting investment in companies that create markets for sustainable products supporting SDG delivery".  
Growing markets which contribute to sustainable development represents "a global opportunity of twelve trillion dollars a year, roughly 10% of global GDP" said Andy Wales, BT's Chief Digital Impact & Sustainability Officer. Prabhat Pani pointed to India's agricultural sector to illustrate how "the use of new technology in water supply and food processing has helped lift millions out of food poverty and delivered rewards for businesses pursuing innovation."  
To create the right conditions for these markets to work, the public and private sectors must work collaboratively, leveraging each other's strengths. Phil Stevens, the Head of Private Sector Department at the UK's Department for International Development, shared that "whilst governments have an important role in laying regulatory foundations and creating the right business environment, it is business that creates jobs and drives economic growth." 
Social Finance 
India has emerged as a dynamic hub for social enterprise and entrepreneurialism, and the climate of innovation is spreading to exciting collaborations between the development and financial sectors. Abha Thorat-Shah, Executive Director at the British Asian Trust, who was recently named one of the 100 Most Influential in UK-India Relations, presented examples of recent innovations which "mix the provision of finance with explicit expectations of both financial and social returns. New products like Development Impact Bonds (DIBs) create win-win incentives for both investors and NGOs to achieve specific, quantifiable development outcomes." 
Social finance works because it creates a commodity out of development outcomes. "Outcomes purchasing is crucial; it makes public spending more efficient and philanthropic giving more effective," said Tom Hall of UBS Optimus Foundation, "by creating markets, you allow for innovation in the development sector." 
One of the features of social finance is the need to build cross-sector partnerships between the private sector, governments, and NGOs. This can be costly and challenging, but it is only through these collaborations that impact can be achieved at the scale necessary to tackle global challenges. "To make these partnerships most effective, they need to work at scale", said Christian Pettenkofer of Munich Re, "now is the time to substantially scale-up impact bonds – we expect a lot more to come over the next couple of years."   
The future of private sector led development  
The Social Impact Forum identified key initiatives such as the Quality Education India Development Impact Bond which will improve learning outcomes for hundreds of thousands of children, and the BT and British Asian Trust collaboration in India which is harnessing technology to help empower half a million adolescent girls. Cross-sector interventions like these will become more commonplace as the private sector, governments and NGOs continue to learn and demonstrate the benefits of partnering together to achieve sustainable development in India.