Building resilience to climate change
In response to the rapidly growing impacts of the climate crisis in Bangladesh, the British Asian Trust is establishing a Climate Innovation Fund to invest in and scale successful agricultural approaches and practices which are resilient to climate change.  Often referred to as 'ground zero for climate change', Bangladesh is extremely vulnerable to floods, tidal surges and natural disasters, which in turn impact on the soil, water, food security and livelihoods.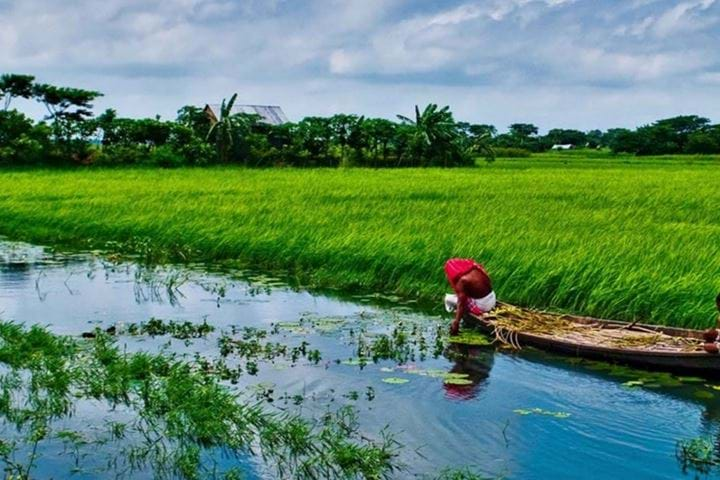 The problem
Agriculture is one of the most sensitive systems influenced by changes in weather and climate patterns. In recent years, climate change impacts have also become the greatest threats to global food security[1] due to declines in food production and subsequent increases in food prices.
Agriculture is a major economic driver in Bangladesh, accounting for 23 percent of its gross domestic product and 65 percent of its labour force. However, the impacts of climate change pose an especially serious challenge to Bangladesh's agricultural output and puts its food security at risk.[2]
Adverse effects of climate change such as temperature rises, land erosion, frequency of floods, volatility of rainfall and salinity intrusion are already leading to the loss of agricultural land. Water and soil health is also affected.  
In particular, climate change is predicted to reduce rice production, Bangladesh's main crop, and increase the country's reliance on other crops and imported food grains.
Farmers, particularly smallholder farmers, often lack the resources to tackle unexpected crises or weather events at scale, with their livelihoods and those of broader rural communities at risk.
[1] Tripathi A, Tripathi DK, Chauhan DK, Kumar N, Singh GS. Paradigms of climate change impacts on some major food sources of the world: a review on current knowledge and future prospects. Agric Ecosyst Environ. 2016;216:356–373
[2] https://www.ifc.org/wps/wcm/connect/topics_ext_content/ifc_external_corporate_site/sustainability-at-ifc/publications/sba-project-agri-bangla
Our solution 
We want to foster innovation and changes to agricultural practices which can help mitigate the impacts of climate change on rural communities, improve food security and help protect livelihoods.
Our Bangladesh Climate Innovation Fund will, in line with government priorities,​ will identify and invest £1m in local enterprises addressing ongoing threats of climate change on food security and livelihoods.
Through these investments, the Fund will then provide further opportunities for the most impactful and promising solutions in climate-resilient agriculture to be developed further.​
Watch this space for future details!
Facts about Bangladesh and climate change
Bangladesh is situated on the delta of two of the world's biggest rivers—the Ganges and the Brahmaputra. Tens of millions of people live in that coastal region, where they are threatened by flooding from the rivers as well as cyclones from the ocean and sea level rise, which is gradually making coastal soil saltier and endangering rice yields.
The Global Climate Risk Indexrates Bangladesh as the seventh most affected country in the world from extreme weather events.
The World Bank estimates that Bangladesh may have almost 20 million internal climate migrants by 2050, amounting to almost 12% of the  population.
According to the FAO, close to 50 percent of Bangladesh's population is primarily employed in agriculture, with more than 70 percent of its land dedicated to growing crops.