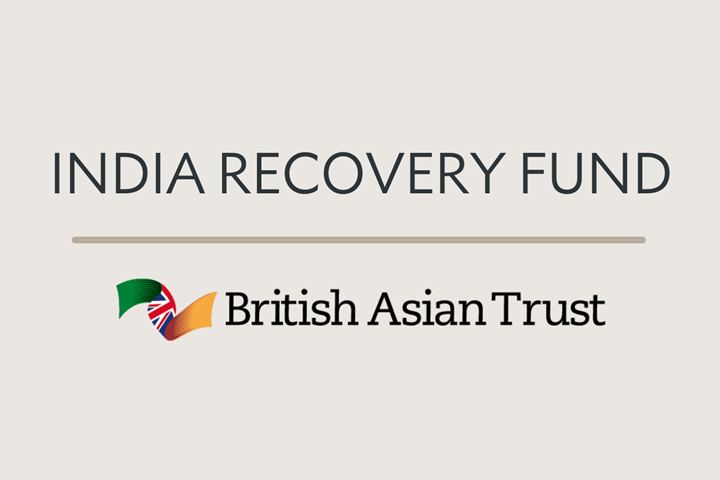 In collaboration with the Confederation of British Industry (CBI) and leading global companies, including Accenture, BT, Deloitte and Finolex, the British Asian Trust is launching the 'India Recovery Fund' to address immediate challenges that threaten the future recovery of vulnerable communities in India.
With the support of the business community, we aim to raise £3m to address three critical challenges facing people in India:
Accelerate vaccinations and medical support for those in rural and hard to reach communities who have little or no access to medical facilities.
Rebuild livelihoods to address rapidly increasing poverty by providing skills and access to jobs in sectors such as healthcare and logistics.
Protect mental health of children coping with the unprecedented levels of grief and anxiety.
"BT is proud to be a founding partner of the India Recovery Fund - leading the way businesses and NGOs can help the country pull through the current crisis and rebuild the lives of its people. One in ten of our employees is based in India and throughout this crisis we have been standing shoulder to shoulder with them. We're proud to have supported our long-term partner the British Asian Trust on the hugely successful Oxygen for India Appeal, and are pleased that we can deepen this partnership by helping secure a better future for India."
Andy Wales, Chief Digital Impact & Sustainability Officer, BT
CRITICAL CHALLENGES 
The India Recovery Fund will address three critical challenges facing families in these communities right now:
1) Huge healthcare shortages and slow vaccine rollout
COVID-19 has brought the healthcare systems in India to the brink of collapse, with shortages of hospital beds, intensive care facilities and doctors.
Yet despite surging infection rates, India has struggled to ramp up its vaccination programme due to poor planning, shortages of supplies, a mismatch in vaccine availability and access between urban and rural areas, and growing mistrust among the population.
At current rates, India will only be able to vaccinate 75% of its population by mid-2024.
2) Surging poverty and unemployment
The national lockdown in early 2020 caused millions of people to lose their livelihoods overnight, with people working in the low-paid, insecure informal sector among the worst affected. Around 75 million people in India have fallen into poverty since the pandemic began, accounting for almost 60% of the total global increase in poverty.
The recent wave of the virus has further exacerbated the situation, with unemployment climbing almost 3% since the beginning of May 2021.
3) 1 in 7 children is at risk of a mental health issue
Over the past year, there have been increasing reports of children who have lost parents and family members, leaving them alone or their families destitute.
Others have been forced into work or early marriage, while still more have experienced increased family violence and abuse, and acute and chronic stress and anxiety. We must act now to prevent a "lost generation" of children.
The full toll of this period on people's health, wellbeing and life prospects is yet to be seen. But whilst the news headlines may have moved on, we will not switch-off to the suffering and helplessness that the people of India continue to face.
THE SOLUTION
With the support of the CBI and leading British businesses, the British Asian Trust; in consultation with local partners; our advisors and government; aims to galvanise an immediate and large-scale response to support rural and underserved communities in India to recover.
With your support, we will work with partners to;
train a strong vaccination workforce; accelerating the rollout of the vaccines and providing basic healthcare to tackle the spread of the virus in hard-to-reach communities
enable people to achieve a sustainable income through skills and support to grow a business or access jobs in critical sectors, such as healthcare and logistics
ensure children have the skills, emotional resilience and resources to return to school and continue to grow and thrive
JOIN THE RECOVERY FUND
"Over the past few weeks, I have personally led the efforts of my team at the CBI to help with the awful and tragic COVID-19 crisis in India. The CBI represents 190,000 businesses across the UK including 200 leading trade associations. I have been overwhelmed by the inspirational manner in which British businesses have unhesitatingly stepped up to help. We have been privileged to work with the British Asian Trust, raising substantial funds for their excellent work on the ground in India. CBI members look forward to helping as best as we can with the British Asian Trust's new India Recovery Fund, and continue to stand in solidarity with India."
Lord Karan Bilimoria, President, CBI
The British Asian Trust, in collaboration with the CBI and leading businesses in the UK and India, aims to harness this generous response to create even greater impact.
By becoming a member of the India Recovery Fund, you will demonstrate your commitment to helping India build back better from the devastating impact of the pandemic. 
We will work with you to convey your involvement in a genuine way to key industry, government, consumer and your organisational stakeholders both in India and the UK. And you will be benefitting from working with a trusted development organisation for the region, founded by HRH The Prince of Wales.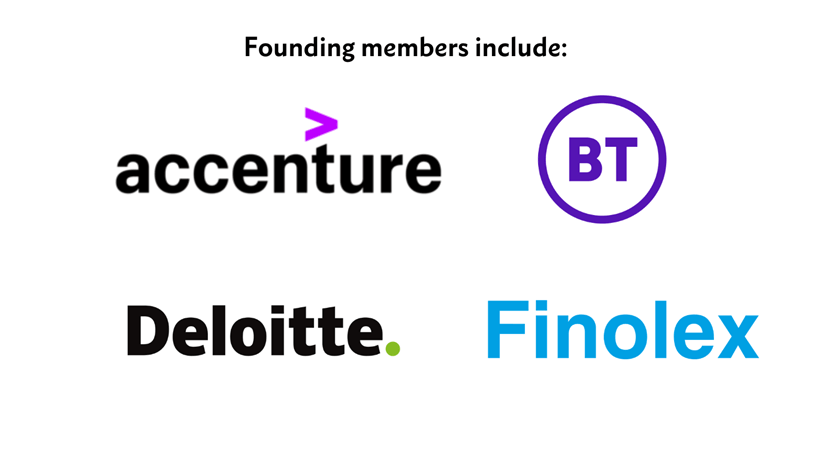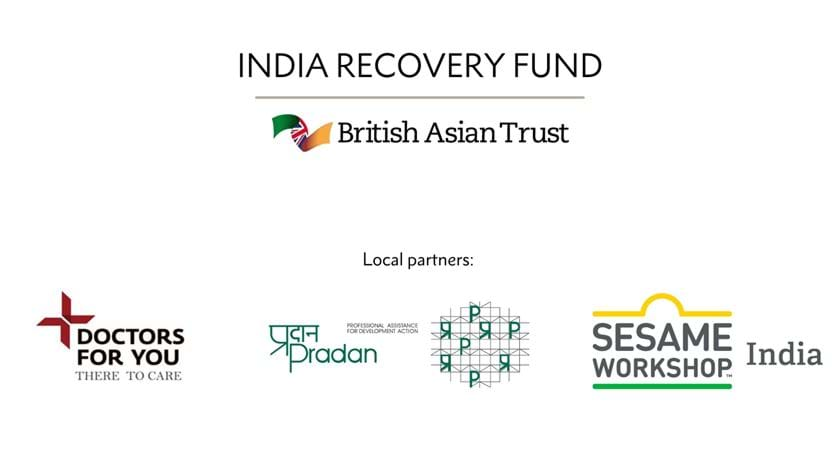 Ongoing work
Doctors For You

: We are partnering with Doctors For You to vaccinate some of the most vulnerable communities in India, such as those living in urban slums with no means and limited access to opportunities. We will vaccinate over 140,000 vulnerable people within six months to ensure that there is no disparity in receiving protection against COVID-19.
PRADAN

: We are working with Professional Assistance for Development Action to stabilise the livelihoods of rural communities at the bottom of the pyramid, especially marginalised women. We will provide grant support directly to farmers and agri-entrepreneurs to enable self-reliant rural households, with a specific focus on supporting women.
Sesame Workshop India Trust

: We are working in partnership with Sesame Workshop to deliver an inclusive curriculum to support marginalised children achieve better mental health and education outcomes. The programme aims to reach approximately 60,000 children aged 3 to 8 through direct interactions at mobilisation events as well as through Community Radio stations.

Bharat Ed-Tech Initiative: We have partnered with Sattva Consulting, Michael & Susan Dell Foundation, and GiveIndia to enable access to online education for 100,000 children in India. The aim is to bridge the country's digital divide and reach the most underprivileged students, with a special focus on girls and other vulnerable groups.