A recipe for reaching millions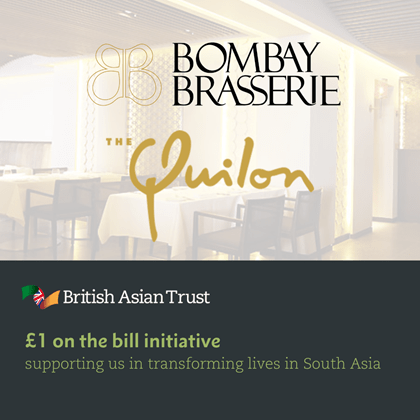 The British Asian Trust is only able to carry out our life changing work in South Asian thanks to the support of many of our friends, and partners. Initiatives like "£1 on the bill" hold immense importance for us, serving as a lifeline to delivering our programmes in education, mental health, child protection, livelihoods, and conservation in South Asia. The collective power of small contributions can generate substantial funds, empowering us to make a tangible difference in the lives of those in need.
Award-winning London restaurants, Bombay Brasserie and Quilon have often supported the British Asian Trust through their '£1 on the bill' initiative.  We are grateful to not just Bombay Brasserie and Quilon for raising funds for our work, but also raising interest with their patrons by highlighting the work we do.
You can support us too by having a dinner this month at the Bombay Brasserie, or Quilon or by donating to us directly. (Click here to donate) 
Quilon's coconut cream chicken recipe
| | |
| --- | --- |
| Ingredients | Quantity |
| Chicken supreme   | 8 pieces |
| Yogurt | 2 teaspoons |
| Coconut mixture | 1 teaspoons |
| Thick coconut milk | 1 tablespoon |
| Cardamom powder | A pinch |
| Salt | To taste |
|   |   |
| For the coconut mixture |   |
| Grated coconut | 2 tablespoons |
| Mustard | ½ teaspoon |
| Cumin | ½ teaspoon |
| Green chillies | 1 piece |

Method:
Grind the coconut, mustard, cumin, green chilli to a fine mixture.
In a bowl mix yogurt, coconut mixture, coconut milk, cardamom powder and salt.
Marinate the chicken supreme with the mixture for two hours.
Remove the chicken supreme from the marinade and grill over the griller.
Put the remaining marinade in a pan and cook over a high flame to reduce.
Serve hot with salad.