Social finance
New and innovative approaches are critical to addressing major challenges in the world. Social finance is at the forefront of new ways of working and has the potential to fundamentally improve the way philanthropy and international development are delivered.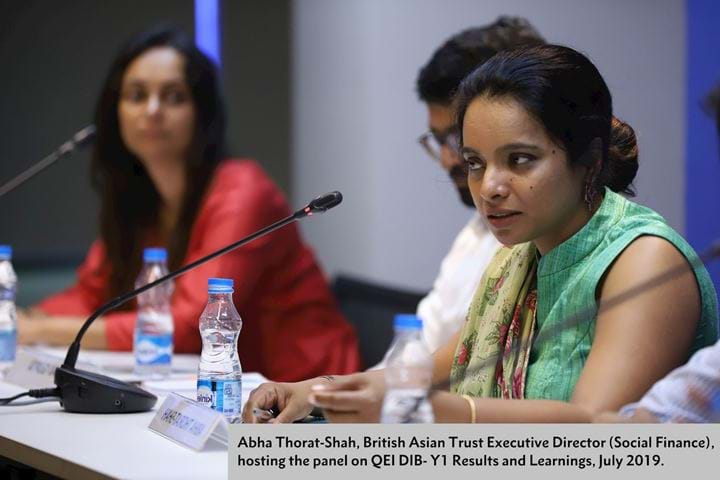 We are global pioneers in social finance, with a strong track record of driving successful collaborations and applying social finance approaches to solve social and economic challenges in South Asia. We work to address challenges and barriers faced by non-profits, governments, donors and other key stakeholders with social finance tools like impact bonds.

"I am also immensely proud of the fact that the British Asian Trust continues to be a genuine leader in social finance and development impact bonds – a marvellously imaginative innovation which I have done my best to support and encourage for the past ten years."
Our focus area
Our award-winning Social Finance Unit is driving a range of innovative initiatives to unlock new capital to address the most urgent issues of South Asia.
There is growing interest from the private sector to increase support to what works, in a flexible manner.
With proven ability to fundraise and dedicated focus and networks in South Asia, we also have a strong track record and market credibility in implementing outcomes-based programmes.
Our core work in social finance is supported by the Foreign, Commonwealth & Development Office (FCDO), Tata Trusts, USAID and Dubai Cares.
We also work in partnership with the Government Outcomes Lab (GO Lab) at the University of Oxford and the Impact Bonds Working Group to help grow the outcomes financing sector.

What we are doing
Quality Education India Development Impact Bond

Launched in 2018, the $11m Quality Education India Development Impact Bond is the world's largest education impact bond. It is using results-based funding to improve learning outcomes for almost 200,000 primary school children.

Skill Impact Bond

The first of its kind in the skilling sector in India, this $14.4m fund will support 50,000 young people to get jobs, 60% of them young women.

Bharat EdTech Initiative

The Bharat EdTech Initiative aims to enable children from underserved and marginalised communities to access online education. Along with the British Asian Trust, it is supported by the Michael & Susan Dell Foundation, Sattva Consulting and Give India.

Outcomes Readiness Programme

This capacity building programme aims to support Indian non-profits to access outcomes-based financing tools.

Blended Finance Instruments linked to Maternal, Neonatal and Child Health in Bangladesh

This work is exploring the potential of blended finance to fund and enhance maternal, neonatal and child health care in Bangladesh. We are working alongside Social Finance UK and the International Centre for Diarrhoeal Disease Research, Bangladesh and are supported by USAID Invest and the Global Financing Facility.
Past work
Feasibility Study on Application of Impact Bonds in Pakistan

As recognised leaders in social finance in South Asia, the Asian Development Bank (ADB) commissioned us to assesses the feasibility of applying impact bonds in Pakistan.

"What the British Asian Trust is doing in social finance is truly groundbreaking: it is capable of delivering vital social improvement at scale."
Latest
Social Outcomes Conference 2021

Reimagining the Indian economy requires reimagining everything for women

Blogs

Social finance Why EdTech funding needs to link to outcomes, not numbers

Top five legal questions when structuring an Impact Bond

Lessons from outcomes-based approaches to employment and skilling in low- and middle-income countries

News & events

Top marks for India's largest Development Impact Bond

News & events

QEI DIB chosen as an inaugural AVPN Constellation Laureate

What happens in an outcome-based financing model when a major crisis hits?

News & events

British Asian Trust Executive Director of Social Finance appointed as part of the GO Lab Fellowship
Do get in touch
rhea.miranda@britishasiantrust.org