Social finance Why EdTech funding needs to link to outcomes, not numbers
For centuries, the pursuit of education has been confined to physical classrooms.  The global edtech boom catalysed by the pandemic was long overdue and created a great moment for learning and rethinking education forever.
Throughout the pandemic, EdTech firms provided uninterrupted education to students across India when the entire country went into lockdown. Remote learning through digital tools not only made education possible but also interesting and fun through new formats and different styles of teaching.
Supported by Government programmes such as 'Digital India' and 'Skill India', which are spreading digital literacy and creating a knowledge-based society, there is no doubt that new ways of teaching and training will chart the course of modern learning environments in the years to come.
Behind the EdTech investment boom though, are real children for whom learning and access to education is critical. Over a child's lifetime, their access to learning affects their employability and their life outcomes.
Despite this, many EdTech solutions are still not reaching India's economically disadvantaged children.
Eighty per cent of the Indian population live in rural areas, where internet connectivity issues, operational problems and a lack of trained teachers are still significant issues.
Many children from low-income, rural communities are first generation learners. The assumption that access to a device and an app is adequate for these children to start using the app often doesn't hold true.
Children whose parents don't have the skills or time to help them use online platforms, and troubleshoot when needed, are also at risk of falling behind. It takes a lot of handholding, nudging and support for children and their parents to ensure usage.
Not enough attention is paid to tracking, ensuring engagement or stickiness. Numbers of people on devices become more important than outcomes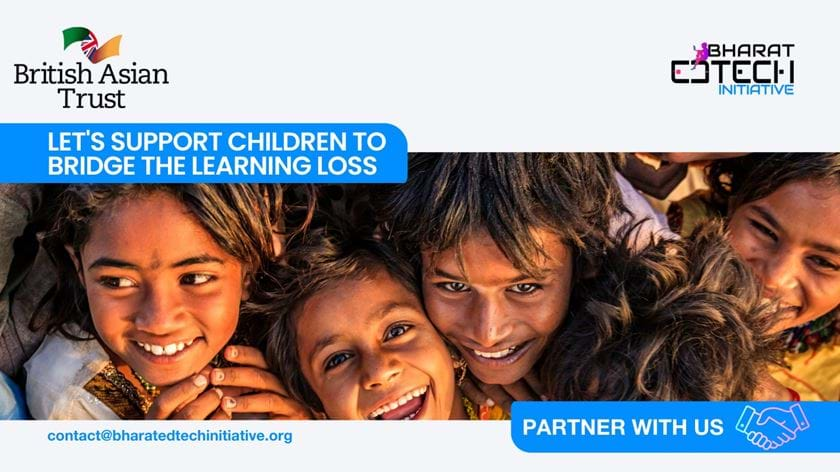 The British Asian Trust has considerable experience of outcome-based financing which incentivises outcome-based results. We are one of the lead partners in the Bharat EdTech Initiative, which is working to enhance learning outcomes for one million students in India by 2025.
We passionately believe that new, exciting and innovative approaches are necessary to address the major challenges in the world. Social finance is at the forefront of these new ways of working and has the potential to fundamentally improve the way philanthropy and development are done.
More than 117,000 students from underprivileged homes have already been onboarded onto the Initiative's platform to help bridge the learning loss caused by the COVID-19 pandemic.
This is great, but it is important to move beyond the traditional 'push it out' approach. That's why we are piloting a performance-linked grant, where a proportion of overall funding is triggered only when pre-agreed targets on engagement (time spent on the app) and learning outcomes are achieved and verified by an independent evaluator.
Our approach ensures that all partners are incentivized to drive up engagement and improve children's learning, not just enrol numbers or distribute devices.
We have faced many challenges – lack of adequate and accurate usage and engagement data to set targets and benchmarks, comparability of data and targets across different types of models, working on mindset shifts for partners to accept performance-linked funding and more.
But this is also invaluable in understanding what we need to measure better.
The lessons learnt from this phase are influencing the next phase of our work and we hope the final results will help support the EdTech sector to adopt, adapt and scale up the approaches that are most useful.
Our innovative social finance models which incentivize outcomes over numbers provide powerful tools for change.
When we know what works beyond just numbers and focus on outcomes, that is when we can have a real impact on improving learning for India's most disadvantaged children, at scale.
By Abha Thorat-Shah, Executive Director (Social Finance), British Asian Trust.
April 2022