Insights from the Social Impact Roundtable 2023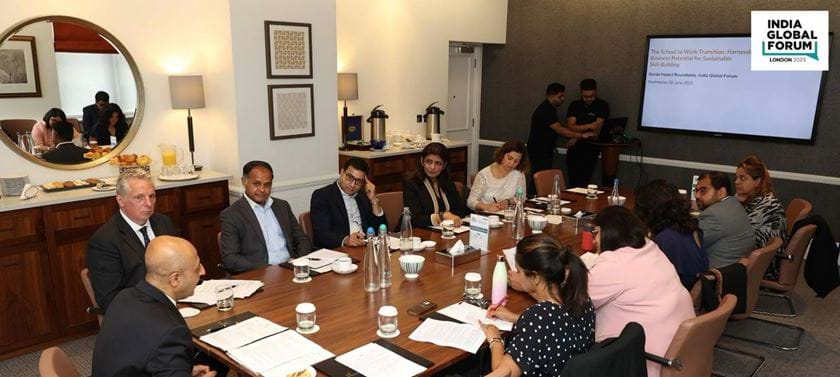 On Wednesday 28 June 2023, the British Asian Trust and BT Group held a Social Impact Roundtable as part of the India Global Forum's 5th Annual UK-India Week. As the India Global Forum's Social Impact Partner, British Asian Trust are proud to have delivered such a dynamic and illuminating event bringing together friends of the British Asian Trust alongside close collaborators from across the UK-India corporate sector to understand how we can enable girls in India to complete secondary education and thereby improve their life changes.  
The companies in the room, including Reliance and Infosys, shared their work and experience in addressing this issue and discussed areas where they can have deeper and longer-term impact. This India Global Forum event provided a platform for the companies present to share the incredible work across their organisations to address the challenges around the school to work transition and get more young people, particularly young women, into the workforce.
Here are some of the key discussions and action points that emerged during the roundtable: 
Corporate Sector's Vital Role 
The corporate sector plays a crucial role in bridging the skills and opportunity gap for young people in India. While greater focus has been given to skills development, the movement of youth from secondary education into employment has yet to receive similar attention. 
Creative Solutions for Education 
As shared by Reliance Foundation, school closures during COVID-19 exacerbated already low literacy and numeracy levels. Addressing these issues will require creative thinking to mould new ways of working, particularly home-based learning. These new ways are beginning to democratise access to learning and education, but more work is required to reach grassroots communities

Designing Inclusive Interventions 
The participants agreed there is great importance in providing a supportive structure for young people from marginalised and disadvantaged backgrounds to compete with peers on a more even footing. There was a great interest in designing interventions which are fit for purpose and experiential, so an interest in continuing education and specific subject matters are developed from a young age. Participants agreed that interventions should take place at a community level and be designed using the voices and stories of women and girls.
Strength in numbers 
India has the second largest workforce in the world, as well as the largest youth population. This presents a huge opportunity and potential for growth. To achieve sustainable, societal impact, organisations need to take others in their circle with them on their journey - there is a strength in numbers.  
Empowering Women in STEM 
A lack of women in STEM industries is a missed opportunity, not just for individual organisations harnessing STEM skills, but also for the ecosystem. 
Understanding the Challenge 
Examples were given from the British Asian Trust and BT partnership, which has reached over 1m adolescent girls and 1.5m parents, teachers and community members as critical partners in achieving societal change.  
Fostering Data-Driven Change 
Across the different sectors present at the table, participants agreed that when navigating efforts to engender social change, it is vital to have adequate data and ensure women are seen in every aspect of the work being delivered. Examples of approaches: storytelling, championing women in leadership positions, building safe spaces for girls and women, and inviting collaboration and a buy-in with male colleagues and leaders in the business.  
Conclusion 
The key themes that emerged as important aspects of delivering sustainable and impactful change were a concerted effort collaboration, ensuring the "voice of the girl" is present, investing in STEM, and inclusive programming.  
Organisations at the Roundtable all saw the importance of taking charge and leading initiatives, as well as ensuring a responsible and considered approach, as they contribute resources towards tackling social and economic issues. Businesses are not only interested in ensuring value for money, but also being values-driven as they navigate the challenging terrain of the school to work transition in India.    
Participants 
Lord Jitesh Gadhia, Member of the House of Lords, Chair of the British Asian Trust   
Harmeen Mehta, Chief Digital and Innovation Officer, BT Group  
Dr Vanita Sharma, Advisor - Strategic Initiatives & Communications, Reliance Foundation    
Rifka Noronha, Head of Corporate Affairs UK&I, Tata Consulting Services  
Ravi Gupta, Co-Head of UK and Global Co-Head of Industrials, Global Advisory, Rothschild & Co  
Piyush Mistry, Partner, Deloitte  
Dr Hema Prem, Vice President, Insurance, Infosys  
Anita Kumar, Head of Amazon in the Community (CSR and APAC), Amazon  
Ritu Chhabria, Co-founder & Managing Trustee, Mukul Madhav Foundation  
Rosie Grieves, Deputy Director, India, Foreign, Commonwealth & Development Office  
Aditya Bhagat, Director, BlackRock   
Richard Hawkes, Chief Executive, British Asian Trust   
Abha Thorat-Shah, Executive Director (Social Finance), British Asian Trust