Social Impact Boardroom 2021 Report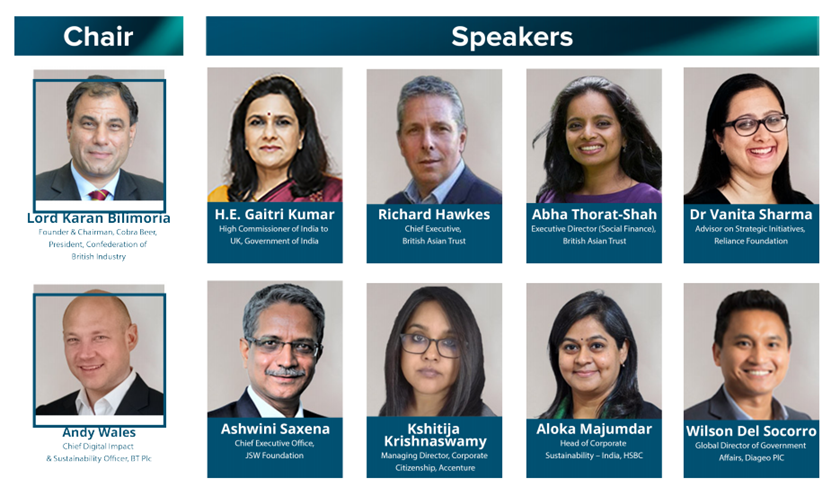 The global pandemic has mobilised investors and private players to respond to the escalating crisis, particularly in India, giving back to the community at large. With companies finding more and more innovative ways to use their resources and expertise to respond to this emergency, the Social Impact Boardroom brought together senior representatives from leading companies, government and civil society to look at ways businesses can collaborate across sectors to support the recovery in India and move towards building back better.

'Response, recover, rebuild'
Convened by the British Asian Trust and co-chaired by Lord Bilimoria, President of the Confederation of British Industry (CBI), and Andy Wales, Chief Digital and Sustainability Officer at BT, this India Global Forum event provided a platform for the companies present to share the incredible work that has been going on across their organisations to respond to the COVID crisis and the key challenges for future recovery.

Social Impact Boardroom
The Social Impact Boardroom also served as a platform for the launch of the British Asian Trust's India Recovery Fund, which aims to build on the call for future collaboration in the private sector to support India to recover and rebuild post-COVID. The Fund, which is supported by the CBI and leading corporate partners BT and Accenture, aims to respond to key challenges for India's post-COVID
recovery by:
1. Increasing access to vaccinations and medical support
2. Protecting children's wellbeing and safety
3. Rebuilding livelihoods

Overview
High Commissioner applauded impressive contribution from British Government and industry helping India control its second wave.
Success came from cross-sector collaboration, full trust in the British Asian Trust and CBI and their intervention, and complete transparency across the supply chain.
Indian pandemic assistance showed how business has evolved to be at the heart of civil society, with access to CEOs on CSR a matter of course.
This was demonstrated by CBI organising power, bringing entire British industry to the table (90,000 businesses and 200 trades), responding immediately in March 2020 to India's problems.
Many innovated, converting their operations to provide sanitation products, face masks, oxygen and whatever else was needed. Others exploited their presence and infrastructure providing logistics, skills, knowledge, funding and equipment.
BT has over 10,000 employees in India whom they have been supporting through this crisis, as well as partners and their communities, with funding for emergency relief. This included delivery of food rations, oxygen concentrators and medical supplies, dedicated mental health support, and help towards higher education fees, devices and data plans to support remote learning.
HSBC's strategy made money available swiftly, focused on local needs, worked through local government for speed, and made sure bureaucracy didn't stand in the way of access to funding.
The Reliance Foundation brought together all their businesses in a dedicated COVID-19 relief strategy assisting with hospitals building and beds, reusing manufacturing units for PPE production, creating a COVID test lab, and providing free fuel for ambulances – and concentrated on oxygen and vulnerable communities in the second wave.
Accenture focused on community, they augmented existing public health system (like facilitating oxygen plants), reduced the load on local government through PPE programmes in 2020 and sustenance programmes in 2021 year for rural populations, and provided vaccination support, all working through existing government machinery.
JSW widened their established rural development programmes, to convert production to meet the new pandemic needs whether oxygen, soap or PPE or tackling deprivation; attached their programmes to hospitals; and had employee volunteers working across locations to promoting COVID awareness.
Diageo, likewise, took a comprehensive approach applying the weight of their resources and unique presence to produce soap and a $100 million hospital recovery fund, especially helping the hospitality sector, provided awareness campaigns, and since April a £4.5 million infrastructure and equipment fund for oxygen concentrators and plants.
Takeaways
Collaboration was key, working closely with state and local government, NGOs, and quasi government bodies for maximum coordination and communication.
Many partnership opportunities for British business available – pushing at an open door – including developing a more diversified and secure supply chain making affordable vaccines for global distribution; climate change problems building on COP26 preparation; population growth; disaster resilient infrastructure; defence and security; and wider post-Brexit trade opportunities.
Chance to exploit the relationships and knowledge of the Indian diaspora, the 'living bridge'.
Focus is now on maintaining momentum and helping the rest of the world with healthcare and vaccine rollout: "no one is safe until everyone is safe"
Action points 
Support health care and vaccine dispensation in India, in particular tackling vaccine hesitancy and slow rollout.
Focus on hard-to-reach and marginalised communities, listening to needs on the ground, particularly to rebuild livelihoods and address growing mental health issues.
Contribute to the India Recovery Fund and future opportunities for collective action to keep the momentum going.
Collaborate to build forward better!
Recommendations for next Boardroom
Women played an important leadership role in the pandemic (half of today's board representatives are female). Explore what action is needed to stop the pandemic widening a gender imbalance in jobs and education.
Prime Ministers Boris Johnson and Narendra Modi agreed global healthcare as a strategic priority in their 2020 and 2021 meetings. Explore collaboration and actions coming out of Health summit planned for September 2021 in New Delhi.
Explore further the assistance needed to promote mental wellbeing and rebuild livelihoods.
Continue crucial role of partnering and cross-sector collaboration, working with more businesses, government and civil society, to agree concrete actions to support the recovery in India.