Supporting the mental health of street children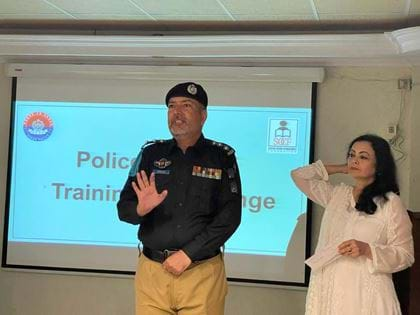 The British Asian Trust has been working with our partner Save Our Children Foundation (SOCF) to provide important mental health support to vulnerable street children in Karachi, Pakistan. As an integral part of this work, we work directly with police officers to provide training on working with street children keeping in mind sensitivity with mental health issues. It is only when they understand the mental health challenges faced by these children that they can approach them with nonjudgemental attitudes, controlled unbiased emotions and empathetic positive attitudes that these children desperately need.
Recently SOCF conducted aone-day training session on 'Woman and child trafficking' for The Police School of Investigations in Karachi which was very well received with 35 police officers from different zones and units of Karachi participating in the session. The aim of this training session was to equip the police officials with an understanding of woman and child trafficking and its impact on their mental health and society. Important details like relevant laws, the role of law enforcement and civil society, psychological effects on victims, and the importance of becoming a trauma-informed society were discussed throughout the day. The training emphasized on how victims, especially children must be treated with empathy and kindness as well as protection from violence and abuse when they are in contact with police, social welfare or legal departments.
The ultimate goal of this part of our work is to foster empathy and effective communication among all stakeholders, ensuring a coordinated, sensitive, and informed approach to combating trafficking and supporting survivors in Pakistan.  
Many sector leading stakeholders attended the session and welcomed discussions and shared thoughts including Mrs. Shaiyanne Malik (Trainer, Consultant & President Save Our Children Foundation), Ms. Sarah Javed (Additional Secretary Karachi), Barrister. Zahrah Sehr Vayani (Advocate High Courts of Pakistan), Ms. Mishal Ashraf (Clinical Psychologists and Drug Addiction Therapist), Ms. Maria Tahir Chaudary (Advocate High Court of Sindh), Insp. Ziaullah I/C PSIG HQ: Karachi, Dr Asma (Clinical Psychologist) and Mr. Javed Akbar Riaz, PSP/DIG (D.G NAB Sindh Karachi).
There were insightful discussions about trafficking of women and children and its impact on their mental health, the roles that law enforcement agencies play in combatting trafficking and how advocacy can help provide support and rehabilitation. There was also a special focus on the emotional and developmental challenges trafficked and street children face and how to provide appropriate care and support to them. Through these discussions attendees developed trauma awareness critical to handling cases with sensitivity, and empathy and learnt the need for developing a departmental culture which encourages respect and understanding towards these vulnerable children.
In order to make real change in the lives of these vulnerable children, it is imperative to encourage activities like these which encourage long term, systemic change in attitudes and behaviours.