Leading the charge against gender-based violence: Kismat's Story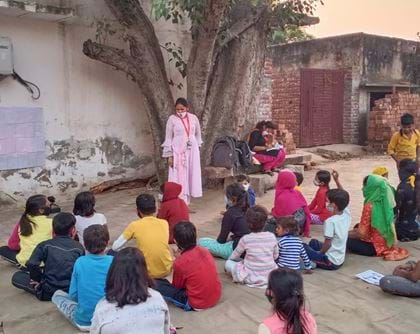 Women living in the Indian state of Haryana face a myriad of challenges. There are fewer women than men in the community and attitudes towards girls and women leave a lot to be desired. Domestic violence is common and seen as an acceptable practice.  
The British Asian Trust and BT have been working with Breakthrough India to identify and train women in communities across Haryana as change leaders. They focus on reducing violence against women, tackling gender issues in communities and improving attitudes towards women. They are specially trained  and are encouraged to stand up against cases of violence, while educating community members about the rights of women. 
Kismat is one of the change leaders. Hailing from Garhi Khajur, Karnal District, Haryana, she belongs to a highly marginalized dalit (oppressed castes) community.  
She lost her mother when she was 17-years-old and was forced to stop going to school to take care of her family while her brothers were able to continue in school. At 23, she got married and gave birth to two girl children.  
Over a period of six years, she witnessed her sister being beaten by her brother-in-law. Kismat felt conflicted and helpless. She tried talking to her brother-in-law but failed.  
She was living with ongoing consequences of gender discrimination in many different ways. 
Breakthrough conducts meetings, theatre, and songs in various communities to share stories of women who overcame various challenges. Many women from the communities relate to these stories and come forward wanting to help. Through this process, Breakthrough identifies change leaders in each community.  
It was during one of these sessions that Kismat was inspired by the stories of other women to become a change leader. She enrolled with Breakthrough and completed training on gender equity, gender equality, gender-based violence and soft skills. She started to understand the nuances of gender-based discrimination and violence and learnt how to intervene.  
As the violence inflicted on her sister by her brother-in-law escalated further, she used her learning from the training to engage her sister and brother-in-law. With the help of another community worker, she was able to get counselling for them and over time, the situation at home was de-escalated. Kismat feels proud that she made her own family's life better by playing a very active and supportive role. 
Kismat continues to work in the community and wants to continue her education. "I want to study further and make my children feel proud of me. I want to be financially and socially independent and continue to help the community's women."  
Recently, Kismat played a big role in Breakthrough's 'Dakhal Do (Must Intervene)' campaign which highlights the importance of bystander intervention, awareness about rights and entitlements through various community-level activities. Kismat urged people of all age groups to act and stop any form of violence.  
She wants to become a Community Developer, an official member of Breakthrough's team, and expand the work to other gram panchayats.