Women's economic empowerment: Irshad's Story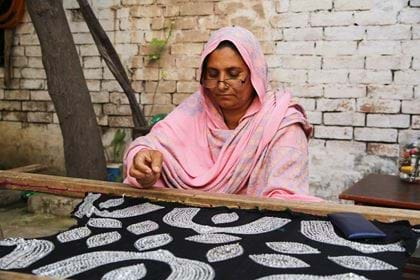 Irshad Baji managed her household and six children, while her husband brought in what income he could through selling fruit and vegetables. That was until a chance meeting with our partner organisation Kaarvan Crafts Foundation gave her a whole new direction in life. Kaarvan offered to train her in sewing and business skills and, when Irshad heard about this, she was determined to do whatever it took to pursue her goals.
"My kids knew," Irshad says. "But my husband didn't know. He used to leave in the morning and come back in the night, and between that time I used to complete my training and be back home. I kept the training a secret throughout the years. Sometimes, if it got late, we would cut across the fields to take a shortcut and run back home."
Irshad's husband did eventually find out, but despite his anger he realised that her training and work were important to her. As Irshad's support system grew, she was able to establish work that has added half as much again to the household income.
Today, Irshad believes it's important for a woman to have a job.
She says: "There is no feeling in the world like that of spending one's own hard-earned money". Irshad maintains that the self-reliance and independence that a woman gets through working is important in making a woman who she is. This is what she inspires, and how she motivates the women around her to stand up for their rights. Currently, Irshad is looking at ways to open a vocational school for other, younger women around her.
Our multi-million pound Women's Economic Empowerment Programme in Pakistan is funded by the UK Government's Foreign, Commonwealth & Development Office.