Brilliant display of local handicrafts by Kaarvan trained artisans highlights empowerment of women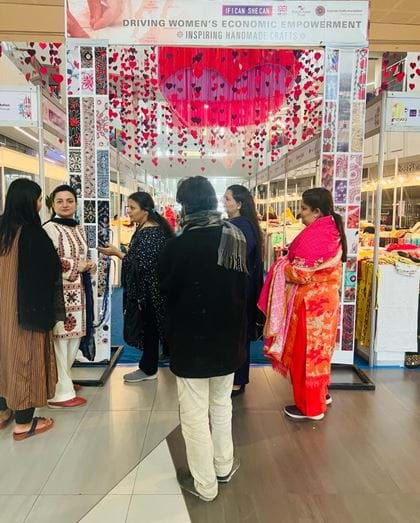 An exhibition of handicrafts made by women artisans who have been supported to generate sustainable incomes featured at the 'Uraan Chapter 12' in Emporium Mall, Lahore from 10-12 February.
The exhibition featured goods made by women trained as a part of the Driving Women's Economic Empowerment (DWEE) programme, an initiative of the British Asian Trust and the UK Government's Foreign, Commonwealth and Development Office (FCDO).
The artisans were trained and supported by Kaarvan Crafts Foundation as part of the DWEE programme, which is working with 1,650 marginalised women and supporting them to be more economically independent and resilient against multidimensional poverty.
The programme operates in rural areas of four districts (Multan, Rahim Yar Khan, Bahawalpur, and DG Khan) of Pakistan and supports women with increased knowledge, skill enhancement, product development, digital literacy, access to resources and market linkages to participate in sustainable livelihoods.
There was fantastic response to the exhibition, with more than 45 women entrepreneurs showcasing their craft diversity, culture and sharing their stories with attendees.
Kamyla Marvi, Pakistan Director of the British Asian Trust said: "Women can make enormous contributions to economies, whether in businesses, on farms, as entrepreneurs or employees, or by doing unpaid care work at home. The DWEE programme helps support women to secure decent jobs and accumulate assets so they can be more independent. Together with Kaarvan Crafts Foundation and the FCDO, we are changing lives, one woman and one community at a time – this exhibition is a great example of that."
FCDO's Clara Strandhoj, Head of Lahore Office who said: "It was a privilege to see the beautiful craftsmanship of these women entrepreneurs. Ensuring women are financially empowered is vital to a prosperous and thriving Pakistan. The UK is proud to support this important work - and I was personally pleased to be able to purchase some of the stunning pieces showcased at this exhibition."
Speaking at the event, Danish Khan, CEO of Kaarvan Crafts Foundation said: "It is humbling to see the journey of these rural entrepreneurs. Here, at the DWEE Inspiring Handmade Craft Exhibition these women truly transform into industrial makers cultivating market linkages and establishing themselves as role models for many other women and girls in their community."