British Asian Trust announces appointment of three new Trustees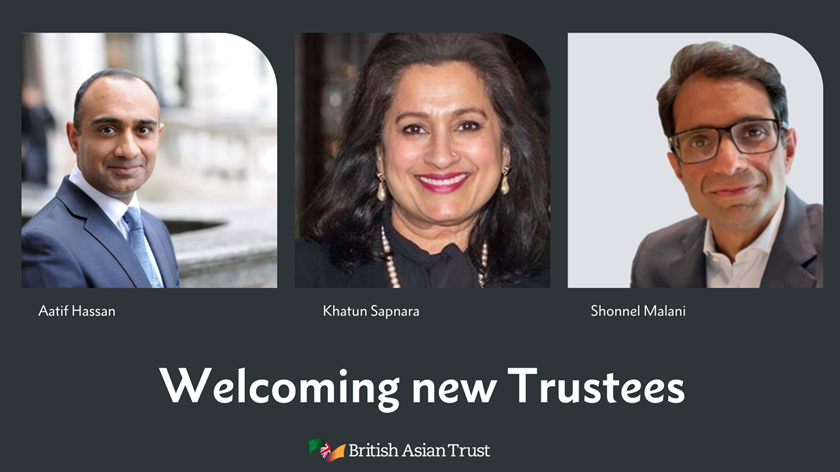 The British Asian Trust is delighted to announce the appointment of Aatif Hassan, Khatun Sapnara, and Shonnel Malani to its Board of Trustees earlier this month. Their shared passion for the Trust's work and unique expertise will play a pivotal role in overseeing the success of the organisation, driving impact and fulfilling its strategic objectives. 
Aatif Hassan is the founder and chairman of Dukes Education, one of Europe's largest and fastest-growing education providers. Aatif's dedication to education is exemplified by his founding of Cavendish Education, a provider of schools catering to students with autism and dyslexia. A chartered accountant with a British Army commission, Aatif has been recognised for his exceptional contributions to education with the prestigious Freedom of the City of London award. He extends his influence as a Trustee of The Queen's Reading Room, CReSTeD (dyslexia accreditation), and St. James Independent Schools. 
The first person of Bangladeshi heritage to serve on the British Asian Trust's Board, Her Honour Judge Khatun Sapnara, is an experienced Circuit Judge and Deputy High Court Judge with a remarkable 24-year career as a barrister. Her invaluable service extends to the expert government advisory body, the Family Justice Council, where she contributed to significant developments in the law. Khatun's dedication to charitable causes is evident in her long history of serving on the Boards of various charitable organisations. She currently holds the esteemed position of the Lord Chief Justice's nominated Trustee of The Access To Justice Foundation. 
Shonnel Malani brings over two decades of leadership experience in the financial and private equity sectors. As the Managing Partner of Advent International, Shonnel has led significant investments in innovative companies across the UK, US, and Europe. He also demonstrates his commitment to the advancement of science and innovation as the Lead Non-Executive Director for the UK Government's Department for Science, Innovation, and Technology. 
Commenting on their appointment, the new Trustees said:  
Aatif Hassan: "I have been a long-time supporter of the important work the British Asian Trust does. I am deeply honoured to now join the British Asian Trust's Board of Trustees. Together, we will continue to make a meaningful impact on education and empowerment in South Asia." 
Khatun Sapnara: "I am eager to contribute to the Trust's impactful work in advancing social justice and empowerment in South Asia. I hope that my contributions, along with others on the Board, will transform the lives of vulnerable communities and support their advancement." 
Shonnel Malani: "I am excited to be a part of the British Asian Trust and its mission to drive positive change in South Asia. Together, we can make a real impact." 
Lord Jitesh Gadhia, Chair of the British Asian Trust added, "We are all very excited about Aatif, Khatun, and Shonnel joining the Board. They will strengthen what is already an exceptional group of Trustees and we are confident that their leadership will contribute to even greater success for the Trust in the years ahead." 
The British Asian Trust was founded in 2007 by The former Prince of Wales, now His Majesty King Charles III. The Trust works towards a South Asia that is free from poverty where everyone can meet their full potential. Their work in mental health, education, livelihoods, child protection and conservation unlocks the potential of disadvantaged people by maximising the impact and support of the South Asian diaspora.