British Asian Trust Executive Director of Social Finance appointed as part of the GO Lab Fellowship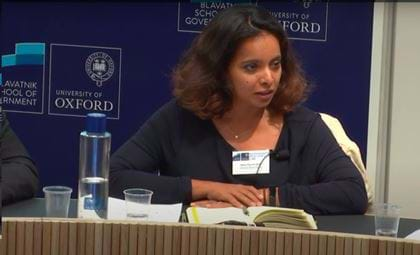 We are delighted that Abha Thorat-Shah, our Executive Director of Social Finance, has been selected to be part of the GO Lab Fellows of Practice. GO Lab is an innovative organisation working to solve complex social problems by collaborating across sectors, with experts from diverse fields. This is an exciting opportunity for the British Asian Trust to collaborate with GO Lab to develop sustainable models to tackle social problems in South Asia.
GO Lab aims to bridge the gap between academia and practice and is made up of leading researchers and professionals from the public, private and social sectors. They work to address the issues that the government faces and explore how to overcome social problems through a focus on outcomes.
Established just four years ago, GO Lab has already achieved a lot in the field of social finance. With a solid understanding of social impact bonds, including their potential, diversity and pitfalls, they look to gain a greater knowledge of outcomes-based approaches more broadly; through partnering with regional institutions and building the capacity of governments through educational programmes.
GO Lab appoints a select number of Fellows of Practice each year and looks for people with a diverse range of experience across the different sectors. They see the Fellows as 'critical friends', to inform and challenge them, making sure that their research addresses the right questions. This year their fellows include leaders in international development who have championed innovative models of funding for social programmes in low to middle income countries, policy makers who champion evidence-based approaches to policy development, and practitioners with decades of experience in helping to improve public services.
They are keen to collaborate with Abha: "Abha is critically minded, thoughtful and passionate about her work… Abha has a vast knowledge of outcomes approaches in India, Pakistan and Bangladesh and beyond; we are excited to learn from her."
"We're excited to be running a joint workshop with Abha in the coming months and to be working with her in the run up to the Social Outcomes Conference 2020."

Do find out more from a recent interview with GO Labs, where they talk more about the organisation and Abha's role.

We would love to keep you updated on the latest from the GO Lab fellowship – please follow us for updates on this exciting new collaboration.
8 April 2020