British Asian Trust launches Driving Women's Economic Empowerment project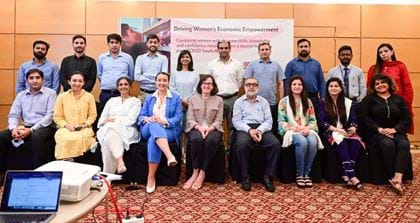 Almost 6,000 women from rural and remote areas in Pakistan will soon have access to better opportunities, skills, markets, and networks to set up sustainable businesses with the official start on the Driving Women's Economic Empowerment programme in Karachi this week.
The programme is being led by the British Asian Trust, supported by the UK Government's Foreign, Commonwealth and Development Office (FCDO), and in-country delivery partners Charter for Compassion, The Hunar Foundation, Institute of Rural Management, Kaarvan Crafts Foundation, Memon Industrial and Technical Institute and NOWPDP.
The three-year programme will help women with vocational, business and life skills and increase knowledge of and access to financial services. The skills will help women obtain jobs, better jobs or self- employment.
In particular, the programme will support women to set up micro-enterprise, including formal business registration to support them as their businesses grow.
The project aims to support over 4,200 women to increase their earnings by at least PKR 1,000 per month; support over 3,800 women to have increased control over finances and decision making, and develop the earning capacity of over 2,700 women.
The British Asian Trust was joined by FCDO Pakistan Development Director Annabel Gerry who said: "There is real power to this project and the work that British Asian Trust and its partners are doing. The outcomes of the project aligns with the goal of the UK government and the government of Pakistan investing in women's economic opportunities and a more inclusive education system. We're hoping for more role models, replication, and a ripple effect." 
The project launched with a series of workshops for project partners and the opportunity for all to share their common aspirations in delivering the programme.
Richard Hawkes, Chief Executive of the British Asian Trust said: "When women are empowered to secure jobs or set up their own businesses, the impact on local communities and the broader economy can be significant. We've seen people's lives change as they have established successful businesses and we know women entrepreneurs often become the support system for their family and an inspiration for other women in their communities.
"When we lift women up, we lift up whole communities. Seeing this programme come to life is the culmination of so many people choosing to support women through our If I Can, She Can appeal. That is incredibly powerful."
The FCDO has been a strong supporter of the programme, match-funding £2 million as part of the British Asian Trust's 'If I Can, She Can' appeal.