Climate Innovation Fund and TRANSFORM partner for climate change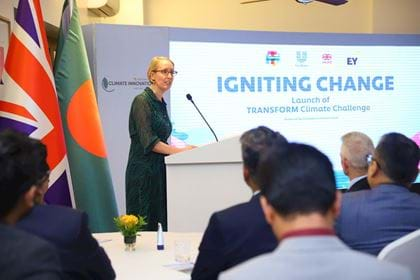 In July this year we successfully launched the Climate Innovation Fund in Bangladesh in partnership with the SAJIDA Foundation. We are thrilled to announce an exciting new development in this programme. To drive innovation in climate change at scale in Bangladesh we will be partnering with TRANSFORM an impact accelerator led by Unilever, the UK's Foreign, Commonwealth and Development Office (FCDO) and Ernst & Young (EY). 
This new partnership, the TRANSFORM Climate Challenge, is between the Climate Innovation Fund, led by the British Asian Trust and SAJIDA Foundation, and TRANSFORM. Our work together is driven by a shared commitment to address climate change in Bangladesh and foster local innovation and entrepreneurship. This partnership, building on our ongoing work, will provide more opportunities for climate innovators in Bangladesh to receive support and funding to translate their innovation into action.  
This focused call for applications will identify and support innovation working on climate resilience, with a special focus on addressing plastic circularity challenges by encouraging recycling and reusing of plastics and rejecting single use plastics. Through the TRANSFORM Climate Challenge, organisations will have access to essential resources and funding to establish and scale their innovations, contributing significantly to addressing climate change challenges and enabling a sustainable future. 

For more details, visit https://bit.ly/3StOUFz