His Majesty King Charles III joins 50th Anniversary commemorating the arrival of British-Asians from Uganda to the United Kingdom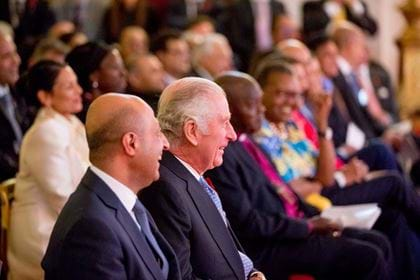 His Majesty King Charles III joined 450 guests at Buckingham Palace to commemorate the 50th Anniversary of the arrival of British-Asians from Uganda to the United Kingdom at an event at Buckingham Palace.
On 4 August 1972, some 60,000 Ugandan Asians were given 90 days' notice to leave the country by former Ugandan President General Idi Amin. Almost half arrived and settled in the UK. The first evacuation flight organised by the UK Government landed at Stansted Airport on 18 September 1972, carrying 193 passengers. Sixteen temporary resettlement and reception camps were set up around the country with over 70 voluntary sector organisations mobilised to provide humanitarian support for the evacuees. Thousands of private individuals also volunteered, providing warm clothes, activities for children, English language teaching and other support. A specially formed body, the Uganda Resettlement Board, was established by the Home Office to co-ordinate these efforts.
The event included notable attendees Jonathan Dimbleby, Jon Snow, Alan Critchley, Sanjeev Bhaskar OBE, The Rt. Hon. the Baroness Vadera, The Rt. Hon. the Baroness Virginia Bottomley, and The Rt. Reverend and The Rt. Hon. the Lord Sentamu who shared personal experiences, stories, and paid tribute.
The Lord Gadhia, Chair of the British Asian Trust, who was born in Uganda and arrived in the UK with his family in 1972, said:
We are immensely thankful to, His Majesty The King, (who founded The British Asian Trust in 2007 as The then Prince of Wales) for his deep interest in the Commemoration event and for his continued engagement with the South Asian diaspora in the United Kingdom.  We were proud to have this opportunity to share stories collected through the work of British Ugandan Asians at 50 and to highlight the contributions which Ugandan Asians have made to shaping modern Britain.   Above all, we were able to express our eternal gratitude for the warm welcome we received from the British public and the amazing support of voluntary organisations during our hour of need.