Sir Keir Starmer celebrates Diwali with the British Asian Trust and leading figures from the British Indian community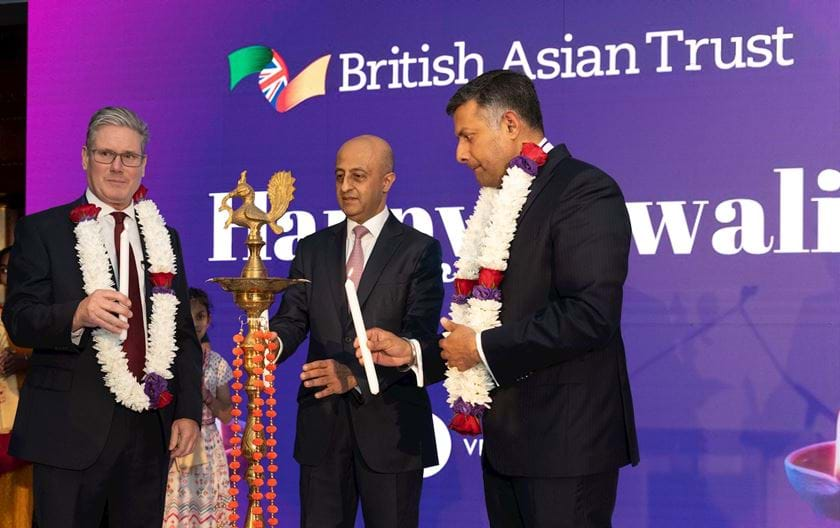 On Tuesday 31 October, Sir Keir Starmer and members of the Shadow Cabinet, including Shadow Minister for International Development Lisa Nandy, joined the British Asian Trust, a charity founded by The King when he was The Prince of Wales, to celebrate Diwali.

The event highlighted some of the British Asian Trust's achievements including a major Mental Health programme across South Asia and the launch of a $50m Child Opportunity Fund set up to give millions of children better opportunities for the future.

The guests included leading British Indians who celebrated as Sir Keir took to the stage to light a symbolic 'diya' candle and receive garlands of flowers from children on behalf of the community.

During his address, Keir Starmer, leader of the Labour Party, said:
"On behalf of the Labour Party, I want to give my thanks to the British Asian Trust for hosting tonight's reception to celebrate Diwali, the Festival of Lights, a time when we mark the triumph of light over darkness, of good over evil and of knowledge over ignorance. In dark times such as these, it is more important than ever that we focus on a positive future in which we work together across communities and faiths. Only by doing so will we ensure that everyone, no matter their background, has an opportunity for a peaceful, fulfilled and happy life.
"Tonight I reiterate my gratitude to the Hindu, Sikh, and Jain communities for the enormous contribution they make to this great country of ours. Your positive impact is felt across so many spheres and sectors, and that your contribution is pursued in accordance with your spiritual convictions, reflects the powerful message of Diwali."

Lord Jitesh Gadhia, Chair of the British Asian Trust, said:
"The British Asian Trust has a proud history of bringing together people of all faiths and backgrounds to work together for positive change. We were delighted to celebrate Diwali with Sir Keir
Starmer and we hope this helps us to shine a light on the important work we do across South Asia".

The evening was supported by OakNorth Bank  – the neobank for entrepreneurs, by entrepreneurs and VFS Global – the world's largest visa outsourcing and technology services specialist for governments and diplomatic missions worldwide.