The British Asian Trust and the Mir Khalil ur Rahman Foundation sign MOU for upcoming mental health campaign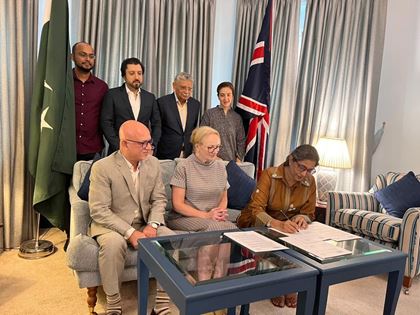 The British Asian Trust and the Mir Khalil ur Rahman Foundation (MKRF) are delighted to announce a far-reaching collaboration to tackle mental health issues in Pakistan. 
The British Asian Trust (a UK registered charity) is a diaspora-led international development organisation delivering high quality programmes in South Asia. Since its inception it has impacted nearly 12 million people in South Asia through its work. The Trust has been delivering impactful programmes in Pakistan in mental health and livelihoods for over a decade. It's mental health programme works to fundamentally transform the mental health landscape across Pakistan by destigmatising and raising awareness of mental health, promoting accessible and affordable services for all and building coalitions of support to drive change.
The Mir Khalil ur Rahman Foundation is a non-profit, section 42 company, engaged in advocacy programmes and using media to create awareness and deliver solutions to some of Pakistan's most urgent and important national issues. It has campaigned effectively on changing mindsets and behavior on issues relating health, education, women empowerment, regional peace, governance, anti-women laws etc.
Speaking about this wide-ranging collaboration, British Asian Trust Pakistan Director, Kamyla Marvi Tapal said "An estimated 50 million people in Pakistan (over 20%) experience mental health issues. Not only are health facilities woefully inadequate, but many people also don't access help because of the lack of awareness and stigma. The British Asian Trust is delighted to partner on this country-wide campaign with the Mir Khalil ur Rahman Foundation. We are confident that the campaign will join people together to help spread the message and engender kindness, empathy and compassion to those who may be suffering. We can make a difference."
The 12-month Milkar campaign has the following broad objectives:
Raise awareness and reduce stigma about mental health in Pakistan

Promote selfcare and care of family and community mental health

Promote access to mental health professionals and caregivers
Shahrukh Hasan, Managing Director of MKRF, said 'MKRF has an effective track record of campaigning on issues of great national importance. MRKF feels privileged to partner on the Milkar mental health campaign with the British Asian Trust. We hope that this campaign will remove the stigma attached to mental health issues and enable family and friends to have honest and important conversations so people can get the support they need.'
The Milkar campaign will bring together a wide network of experts and professional organisations who have been providing excellent mental health services in the country and can now join forces to tackle this important issue in Pakistan.