The importance of ethical principles for mental health professionals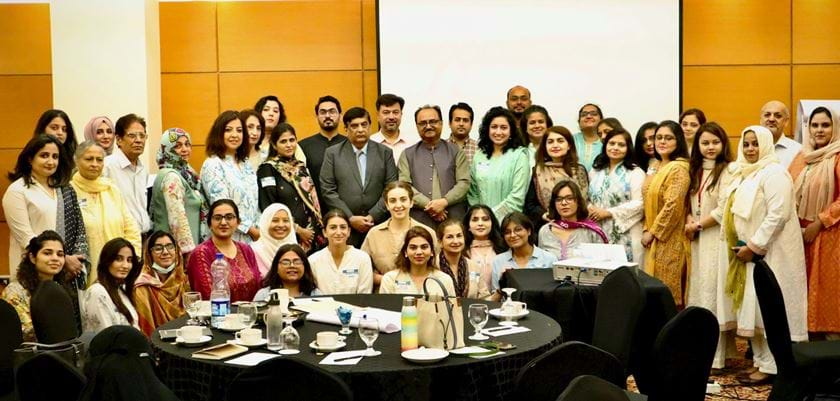 On 31 May 2023 the British Asian Trust and our amazing partners Sehat Kahani, Savaira and Taskeen, hosted a workshop that brought together a range of stakeholders working in mental health to focus on the importance of establishing an ethical framework that promotes effective mental health practices within Pakistan. 
 
Key stakeholders from within the sector including Dr. Karim Khawaja, Chairman of the Sindh Mental Health Authority,  Dr. Naim Siddiqi, Sindh Institute of Urology and Transplantation (SIUT), Dr. Iffat Zafar Aga, COO and Cofounder Sehat Kahani, Kamyla Marvi, British Asian Trust Pakistan Director, Dr. Rubeena, Director, Training and Quality Assurance, Savaira Taha Sabri, COO and Cofounder Taskeen, and Mr. Iqbal Ahmed, Chairman of Sindh Human Rights Commissions, joined the event for important discussions. 
The session included updates about new Mental Health Authorities established in the provinces of Sindh, Punjab, KPK and Balochistan, and how to ensure they can support people with the desperately needed mental health services. 
There were also sessions on key topics such as dignity, integrity and competent care in the areas of mental health treatment, and the importance of ethical concerns being essential to the overall health and wellbeing.  
Dr. Karim Khawaja, Chairman of the Sindh Mental Health Authority, really appreciated the event:
"Ethical practices in mental health are essential for the growth and progress of any nation and I am grateful to the British Asian Trust and the entire Pakistan Mental Health Coalition for brining both private and institutional stakeholders at one platform for the betterment of mental health." 
Kamyla Marvi, British Asian Trust Pakistan Director added:
"There is a pressing need to enhance the skills and knowledge of mental health professionals along with the implementation of regular renewal of training programmes for mental health experts. We are pleased to be working with all our partners to ensure a stronger mental health sector in Pakistan in the coming years."