60 seconds with Dixit Joshi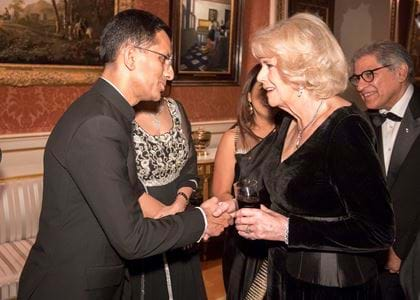 Dixit Joshi, Group Treasurer of Deutsche Bank, recently shared some insights with us about what life is like for a prominent Investment Banker, as well why he supports the British Asian Trust.
What is a typical working day like for you as Group Treasurer of Deutsche Bank? 
It's the oldest cliché but there truly is no typical day in banking. However, I can be working from our London, Frankfurt, New York or Singapore offices and there will still be some common themes to my day. Firstly, it will be incredibly busy with internal and external meetings. Every day I will catch up with my management team on a range of topics from new business and issuances, liquidity stress forecasting, capital and balance sheet decisions and regulatory matters. I frequently meet with clients and investors of the bank to discuss our strategy, capital and balance sheet management or latest results. We have regular internal meetings across Treasury and the bank where discussion will centre on the strategic use of our financial resources, risks and priorities. And once every week to two weeks I will attend the Deutsche Bank Management Board to update them on the departments work and ongoing challenges.
Hopefully the second theme has already emerged, and that is the variety of topics and tasks in my day. As Treasurer my responsibility is to steer the firm's financial resources in a commercial, controlled and compliant manner. As this touches every business and covers capital, leverage, liquidity and funding my team and I can pivot from being focused on funding for a large multi-billion transaction for a New York Trading desk one hour to discussing liquidity risks with regulators in Singapore the next.
The combination of live markets, trading activity and client transactions means staying nimble and able to adapt to changing conditions are key pre-requisites in this position.
What has been the biggest highlight of your career to date? And some of the challenges?
Highlight? It is hard to single out a specific instance but would say the opportunity to have worked in the US, Asia and EMEA, across several diverse businesses and through so many good and challenging markets over the past 25 years - to have survived many of those would qualify as a highlight I think!
One of the challenges I have frequently addressed throughout my career is bringing about change. In large organisations it can be difficult navigating through all the layers to execute on change needed. I'm especially focused on utilising smart technology to solve issues in a way we couldn't before, and whilst this is greatly supported, the implementation of projects of this size in a 100 000-person organisation brings many challenges.
How do you stay passionate about what you do?
The knowledge that we can drive real change, to produce tangible outcomes that will benefit people – the banks clients, shareholders, employees and the wider communities – that keeps me driven. Also, with few industries having this combination of such incredibly talented people with a dynamic and ever-changing environment, it remains intellectually complex and most interesting.
 Philanthropy and giving back is a big part of your life – what approach to philanthropy have you adopted and how much has this been influenced by your professional life?  
My approach has been to seek out where an impactful difference can be made and measured, whether this be with charities, as an individual or as an angel investor. I'm sure my professional life will have influenced this, as my banking and investing experience has led me to focus more on 'venture philanthropy'. It is important to maximise the impact of efforts to be efficient and effective, and identifying the right partners to work with is probably the most important decision to get right.  
What issues are you particularly passionate about supporting? And why? 
Having been educated in South Africa and with close experience in India, I've been able to see first-hand the transformative impact education can have on generations. In Banking and elsewhere, the rapid changes we are seeing due to technology advancement have an enormous risk of creating further inequality unless we invest in building skills.
Hence, I'm actively involved in a number of educational initiatives. Through the Joshi Family Foundation, as a board member of Pratham, a leading India focused education non-profit, as a trustee of the Student Sponsorship Programme in South Africa and as a supporter and judge of the Global Teacher prize. I recently attended the Global Teacher Prize Gala and hearing the stories of these inspirational teachers reminded me again of the importance of investing in futures.
Why do you support the British Asian Trust?
The Trust has at its heart the same values and beliefs as I do and I believe that working as a collective will see us achieve much more than as a sum of parts. Having been involved now for many years I've seen first-hand the impact that can be made but acutely aware of how much more there is to be done. The Trust's focus on outcomes fits well with my investment philosophy and the recent work on the Development Impact Bond brings together the best of bond, financial markets and compassion to deliver on education "performance" targets. I can't think of a better investment!