60 seconds with Nitin Ganatra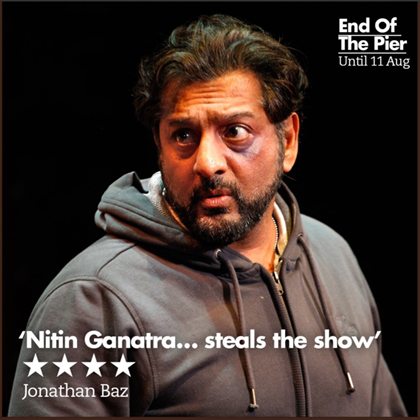 Nitin Ganatra has been a fantastic ambassador of the British Asian Trust for several years.Well-known for his portrayal of Masood Ahmed in the BBC soap'EastEnders' and countless other work, Nitin is also known internationally as Prince Pondicherry in the Tim Burton film 'Charlie and the Chocolate Factory'. Currently making waves with his new play 'End of the Pier', Nitin spoke to us about his art, passion and giving back.
What is a typical working day like for you as such a well-loved actor of the stage and screen?  
There is no typical working day on stage and screen. Apart from turning up and putting on makeup and a costume, there is no predictability in it. It's a bit like trying to climb a mountain; you arrive with having done your research and with all the tools you need to get up there. Maybe even a little planning. But then once you start, you are on a constant search for the right ledge and the best foothold. Things may never go as planned so you must have the flexibility of mind to adjust. And then there's the possibility you might fall and fail. Every day is like a new mountain. It is an unpredictable profession that has no logic, no fairness, or consistency about it at all!
But why do we do it? For me, it's that little moment between "action and "cut" for those two hours in front of a live audience where you tune into some creative force that makes you feel a profound connection with life. 
What has been the biggest highlight of your career to date? And some of the challenges?
There have been so many highlights in my career, so I wouldn't know where to start. I am blessed to have followed my heart and pursued a profession that I love. Even though I was always told I would fail at acting and everything else from an early age, I have managed to hold fast to my belief and carved out a career against prejudices, racism and low expectations.
I have been lucky enough to act opposite people such as Ray Winstone, Jonny Depp, Richard Gere, Donald Sutherland and Om Puri - actors who I watched on TV as a child! At the same time, I studied as an actor with the late, great Master Jerzy Grotowski. This is a long adventure. But let's just say, the most important person and influence in my journey as an actor is Jerzy Grotowski. I have been privileged to be trained by a Master and there isn't a day or take or a performance that goes by where I don't refer to his philosophy.  
There are many challenges in this profession- inconsistency, lack of parity, lack of leading roles, how to get through lean times and the biggest of them all, institutional racism. I'll just let that one sit there for a moment…yes. It's a biggie.
How do you stay passionate about what you do?
It's hard to stay passionate about my industry. Why? Because it can be shallow and frustrating for many reasons. But to remain passionate about what I do, I have to be passionate about life. I think there are certain prerequisites to be an actor – largely the ability to play like a child. To be able to make a fool of oneself. And to have an interest in the world around you. One must be open, humble and inquisitive to the world and everything in it, from the way the sunlight hits a pavement, to people on the train, to animals in the wild. If you get this access to this universal library, you will grow as a human too and then you become passionate about everything, not just acting.
Your new play 'End of the Pier' has been receiving much acclaim. Can you tell us a little about your character and what drew you to the script?
I was asked by writer Danny Robins to do a play reading called 'End of the Pier.' It's as simple as that. I hadn't done a play for sixteen years and when I read this script I said: "I will do whatever it takes to play this part". Although it's essentially only one scene in a play, it's a hell of a scene. The play as a whole is an incredible discussion of the world we live in right now. It delves into the new world of post Brexit culture, where British people are addressing long suppressed racism, middle class angst and the rights and wrongs of political correctness. All this comes in the microcosm of a father-son drama where an older, fallen from grace comedian looks to help his son, a successful alternative comedian who has racially attacked a Bangladeshi man. It's funny and tragic and has at its core so much truth; you don't know whether to laugh or cry.
Why do you support the British Asian Trust and which causes are you particularly passionate about supporting? 
I became a British Asian Trust ambassador because I wanted to help make a difference to people's lives. I can do much myself. I can stop and talk to a homeless person, feed them and listen to them. I can go to schools and talk with young people who have been abused or come from dysfunctional families, and I can spend time with the elderly and listen to their stories. I try to do these things as much as I can. However, the British Asian Trust is an organisation that has a wider vision and reach, to change the lives of vulnerable people in a profound and lasting way. I recognise that the Trust is an organisation that has a talent pool of people with real skills to execute its goals with effect. And at the heart of the British Asian Trust team, is the will to help people. The key word in the title is 'trust' - to trust that the right people are being helped. 
Nitin's play 'End of the Pier' is running at London's Park Theatre until 11 August. Get your tickets by visiting: https://www.parktheatre.co.uk/whats-on/end-of-the-pier