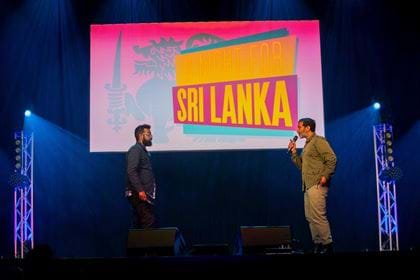 The tropical paradise known as Sri Lanka has an unenviable recent history.  Decades of civil war and terrorism, a tsunami that obliterated whole communities, and a population that has had to prove its resilience time after time in the face of man-made and natural disasters.
But Sri Lanka had got used to a decade of relative peace: A time when the world was happy to visit, go back to its respective countries and recommend the country as the best of destinations. Not a week went by without someone I know asking me about Sri Lanka: What hotel? Which beach? The most culturally significant place to visit? I was always so proud to introduce the interested tourist to my wife Eesha, who would confidently give out recommendation after recommendation. Even though the political situation was in paralysis, the tourist industry – which millions of people depend on for their livelihoods – was flourishing. That all came to an abrupt end on Easter Sunday. 
We woke up on 21 April 2019 to read alarming WhatsApp and Facebook messages, switched on the TV and saw the terrible news. The country that we visit every year with our children had been targeted again, and as the hours unfolded the sheer scale and callous barbarity of this attack filled us with horror. We thought of the people, the places, the short-, medium- and long-term future of the country.
On Thursday 25 April my wife and I were in bed and she turned to me and said, 
"We have to do something. If we don't who will?"
The following morning, I sent the brilliant comedian, actor, writer (and fellow British Sri Lankan) Romesh Ranganathan a text. It read, 'Bro, feel like we should be doing something for the people in Sri Lanka. What do you think?' A minute later Romesh replied 'Agreed' and immediately set about roping in his manager, the wonderful Flo from Off The Kerb.
In less than an hour, Romesh and Flo had got the Indigo at the O2 on hold for us as a venue, and a date for 12 May. From this point on, we had a 2,000-capacity venue to fill and no acts other than Romesh and me – a radio broadcaster not a comedian. By the following Friday, Romesh and Flo had worked their magic and we had an outstanding line up of comedians and a brilliant singer of Sri Lankan origin called Arjun. Huge names in comedy, such as Kerry Godliman, Rob Beckett, Katherine Ryan, Harry Hill and Jo Brand had all agreed to give up their time to perform for what we called 'A Night For Sri Lanka'. Every day in the run up to the event, Flo gave us updates. 500 tickets sold, a 1,000 tickets sold, 1,500 tickets sold, and as we edged closer to selling out I was so moved by the love that people were sharing about Sri Lanka and the warmth of its people.
As soon as we had finalised the bill, we decided that we wanted to partner with the British Asian Trust to help us collect and distribute the money raised on the night. Having been a trustee and now an ambassador for the charity, I knew the people and the mechanisms of the British Asian Trust very well and it was our first choice.
The night itself was a huge success. All of the comedians were hilarious, which to be fair is a minimum requirement for the job, and Romesh was especially good. It was important for us both to be onstage together at points throughout the night – he being from the Tamil community and myself from the Sinhalese community. But that's not important; Sri Lankans of all backgrounds, ages and communities were caught up in the atrocities. The message of the night was about finding positivity out of negativity, love from hate, and unity instead of strife. We also wanted people not to abandon Sri Lanka; not to cancel their holidays or decide to get married elsewhere.
The people of Sri Lanka have been hurt before, recovered and prospered. We all believe that Sri Lanka will have a bright future and overcome this latest setback. It was an amazing night of comedy, with a room full of people who all left entertained and uplifted by the brilliant comedians who performed. Now the real task begins – making sure that the money raised goes where it is most needed. The most important job of all. 
Nihal Arthanayake, radio and TV presenter and British Asian Trust Ambassador