Creating a Shared Agenda for Mental Health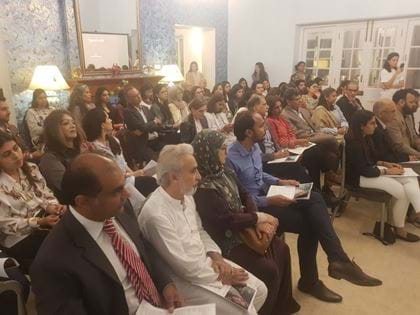 On 4 December 2019, the British Asian Trust hosted 'Creating a Shared Agenda for Mental Health' with the British Deputy High Commission in Karachi. The event brought together leading voices, campaigners and experts on mental health together to interact and initiate a conversation around the subject, encouraging a more collaborative nature of working going forward.
The panel consisted of stakeholders from different sectors who all felt passionately about mental health within their own areas of expertise. Attendees included Dr Ayesha Mian (Dean of students and Chair of psychiatry at the Aga Khan University) who is one of the very few child and adolescent in the country, Sabrina Dawood (Board of Trustee Dawood Public School and Director of Dawood Foundation) who has integrated mental health and well being support in to her curriculum at her schools, Helen Stokes  (Managing Director at CareTech facilities for mental health rehabilitation in the UK) and Hajra Khan, (an ambassador for the British Asian Trust) and a spokesperson who shares her own mental health experiences to encourage others to speak up. The event was also attended by our ambassador Sanam Saeed who spoke about the importance of a suicide prevention helpline and a national level number for people to call on—She also spoke about the role that media can play in spreading awareness and removing the taboo around mental health.
It was amazing to see such a diverse audience come together and shed light on the importance of mental health in all sectors. This interactive discussion brought light to many of the issues and challenges faced when working in the field, but also helped highlight some of the solutions we can collectively start to focus on. Everyone in the room felt very strongly about early interventions and preventative measures and how focal people such as parents, teachers and educators can be in the overall wellbeing of our youth.
In Pakistan, mental health services are not accessible or affordable for the majority of the population. We only have around 400 psychiatrists and 500 psychologists for a population of over 200 million.
The burden cannot lie solely on these tertiary care providers. Individuals from different sectors need to have a better understanding of mental health and come together to build a system-- with improved identification, a structured referral mechanism in place, and improved better-quality care when it comes to mental health.
When providing mental health support, an integrated, holistic approach is important. Working with a breadth of stakeholders and organisations that specialise in different aspects of emotional wellbeing and mental health is critical. We are so happy that, along with the British Deputy High Commission, we were able to provide a safe platform for different representatives and organisations to come together and communicate and interact with one another. We encourage people with first-hand experience, family members and caretakers, professionals, educators, employers, colleagues to all speak up as they can provide the most valuable input when it comes to designing mental health support strategies and interventions that work. After all, as heard at the event – "an individual voice is strong, but a collective voice has the power to impact."
Sanaa Ahmad, Mental Health Programme Manager, Pakistan – the British Asian Trust
December 2019