Duke and Duchess of Cambridge shine a light on mental health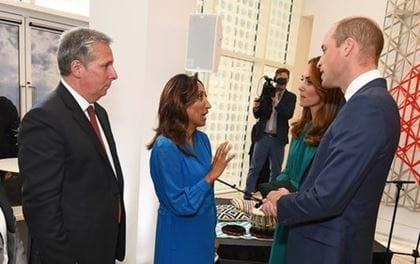 Members of the Royal Family do a tremendous job shining a light on important issues, which is why we were delighted when The Duke and Duchess of Cambridge chose to speak about mental health, one of our priority programme areas, during their recent visit to Pakistan.
Before their visit we very pleased to have helped organise a special reception for them, hosted by His Highness the Aga Khan, with leading figures from the Pakistani diaspora. The British Asian Trust was represented by Asif Rangoonwala (Trustee), Zameer Choudrey (Chair of our UK Advisory Council) and our ambassador, Naughty Boy, at this event.
I was extremely fortunate to have had the opportunity of meeting the Duke and Duchess again and reminiscing about being with them in India three years ago. They spoke really positively about the British Asian Trust and the impact our programmes make across the region. They were both really excited about going to Pakistan and very much looking forward to the visit. We were delighted that our ambassador, Noreen Khan, was invited to be a part of the trip to represent the British Asian Trust. Noreen hosted the red carpet at the official Reception Dinner for the Duke and Duchess in Islamabad and she also accompanied them on engagements including their visit to meet members of the Pakistan Cricket Board. The PCB are formally supporting the British Asian Trust's mental health work in Pakistan and through the power of their voice, are helping to amplify awareness of mental health issues across the country.   
Read an exclusive account of Noreen's trip with The Duke and Duchess of Cambridge in Pakistan.
Richard Hawkes, Chief Executive - British Asian Trust