Field visit to our Anti-trafficking programme in Jaipur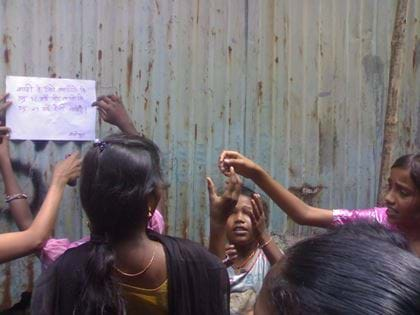 I've been working in international development for 25 years and field visits are always the most motivating and inspiring part of the job. But sometimes they can be incredibly difficult because of the awful situations you get to see.
I experienced all these emotions in India, in May, when I visited our anti-trafficking programme in Jaipur. Jaipur, one of the most beautiful cities in the world, yet behind the scenes more than 50,000 children are working in workshops as child labourers  – engaged in making bangles, embellished textiles and polished stones for jewellery – as modern-day slaves.
I got to connect with the issue up close by visiting local organisations Taabar and Bal Ashram. These visits were as emotional as any project visit I've done in the last 25 years. Absolutely heart-breaking.
The experiences shared by rescued children living there were so utterly terrible that it is impossible not to cry when you hear them. Small boys who were kept in the dark for three years; sometimes kept awake for 20 hours a day; beaten if they fell asleep; only fed if they hit their "targets". One child had even had his hand nailed to the floor to stop him trying to escape.
But we are doing something about this – campaigning to stop these horrendous crimes, supporting brilliant organisations that are rescuing and rehabilitating these children, and working on large collaborative initiatives that work with businesses to develop ethically sound supply chains. The British Asian Trust is part of an incredibly exciting initiative, working with our partners, including the Freedom Fund and the Children's Investment Fund Foundation, to make Jaipur a child-labour free city.
One of our partners is Taabar, a non-governmental organisation that rescues young boys and provides them with rehabilitation and support, enabling them to be reunited with their families or go back to education. I also visited Bal Ashram, a rehabilitation centre for rescued children, set up by Kailash Satyarthi, winner of the Nobel Prize for his incredible work rescuing hundreds of thousands of children from slave labour and trafficking.
I find the biggest challenge in these situations is to be strategic and not emotional. With every bone in my body I want to pick these kids up and take them to a better place. But that would not solve anything. What we have to do is use the drive of these powerful emotions to force us to be really strategic about what we do. That is what the British Asian Trust does. And that is why it is such an enormous privilege to work for this organisation. It allows me to be a part of a team that is genuinely making the world a better place for thousands of people. 
I encourage you all to keep supporting us and keep enabling us to do this great work. Without your support the British Asian Trust is nothing – and without the British Asian Trust there would be thousands and thousands of people living far worse lives.
Richard Hawkes, Chief Executive, British Asian Trust