Swimming the Bosphorus Strait in aid of our Anti-trafficking work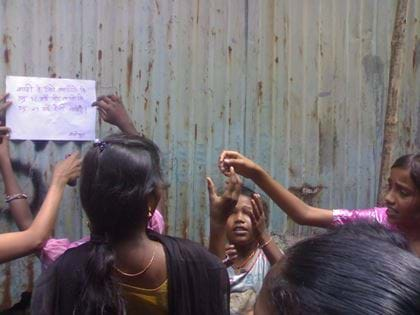 This Sunday 2nd December is 'International Day for the Abolition of Slavery'. International Days of this nature are excellent ways of raising awareness of important issues and causes – and there can be very few global causes as important as modern-day slavery. Quite unbelievably there are more than 40 million people around the world living in slavery today. That is more than half the population of the United Kingdom – denied the most basic of human rights. This would have been wrong 500 years ago, let alone in 2018.
I am really proud that the British Asian Trust is doing something about this – anti-trafficking is one of our four priority programme areas.
Earlier this year I did a sponsored swim across the Bosphorus Strait to raise money and awareness for our anti-trafficking work and, in particular, an amazing project we support in Rajasthan.
There are more than 250,000 child labourers in Rajasthan (Indian census 2011). Rajasthan's capital, Jaipur, has an estimated 50,000 children in hazardous workshops producing bangles, embroidery, sarees, carpets and other handicrafts. Many come from northern Bihar, with parents given advances and promises of good jobs for the children.
Children are typically forced to work 15 hours a day in confined spaces, often out of contact with families.
We are working with our partner organisation The Freedom Fund, one of the leading anti-slavery organisations in the world, to make Jaipur a child-labour free city. To address the complexity of this scenario, we have co-developed a model with the Freedom Fund and our other partners CIFF and C&A Foundation that will address child labour in Jaipur in a comprehensive manner. This includes addressing both supply and demand factors in both the source and destination areas. Moreover, a crucial element of our approach is that we are engaging with businesses to find ways in which we can eliminate the demand for child labour. Businesses and consumers are not usually a part of traditional models. However, we can only make this truly sustainable if we end the demand for child labour in businesses – otherwise, more children will be brought in to replace the ones we rescue.
We are increasing awareness and demand among consumers in Jaipur for child labour free products, thereby increasing incentives for businesses to adopt transparency measures in their supply chains. We have started work simultaneously with businesses to create processes to assess potential problems in supply chains and find ways to address challenges jointly. In addition, we will create alternative supply chains that do not use child labour and work with domestic and international buyers to source their goods from these ethical supply chains instead. We believe that over time all these measures will lead to a significant shift in the way that businesses in Jaipur source their goods – setting an example for the world.
We are most grateful to the John Lewis Foundation for the support they provide to this programme.
I was delighted to be able to personally raise funds for this project and the British Asian Trust will continue to do this as we scale up our anti-trafficking work, not only in Jaipur, but across the whole of South Asia.
Richard Hawkes, Chief Executive, British Asian Trust.