The British Asian Trust and the COVID-19 Crisis in India
As news of a devastating second wave of COVID-19 started coming in from India, the sheer scale of the crisis with huge stresses and strains on the public health system became apparent, and we decided that we need to take action.
This time, the crisis was more severe, with terrible heart-breaking images coming out of India every day. We rapidly consulted with stakeholders from the Indian and UK governments, our Advisors, funding partners and programme partners. Based on their guidance and our own due diligence, we agreed that the biggest difference we could make immediately was to get as many oxygen concentrators to hospitals as quickly as possible. These concentrators save thousands of lives because they produce their own oxygen supply, unlike oxygen cylinders which need constant refilling. 
We decided to partner on the procurement and delivery of concentrators with Swasth Digital Health Foundation, a not-for-profit collaborative founded by experts in the public health field in response to the first wave of COVID-19. Swasth identified the overall need in India for oxygen concentrators as around 200,000. It set itself a target to raise funds for procuring 50,000 of this 200,000 to begin with. The British Asian Trust launched our appeal for raising money to support this target via support of the British Indian diaspora, corporates and the wider public. 
Our efforts have seen significant initial progress on the ground, with our fundraising already having crossed £3 million. Swasth has already delivered 3,500 concentrators across the worst hit regions in India. We expect another 10,000 concentrators to be delivered this week, and 10,000 more in the following week. We are leveraging our combined expertise in the public health, logistics, and technology sectors – managing a complex set of negotiations with manufacturers to arrive at the best possible rates, and working with the top private sector logistics and delivery solutions companies including Amazon to ensure transparent, on-time last mile delivery, no matter how hard to reach.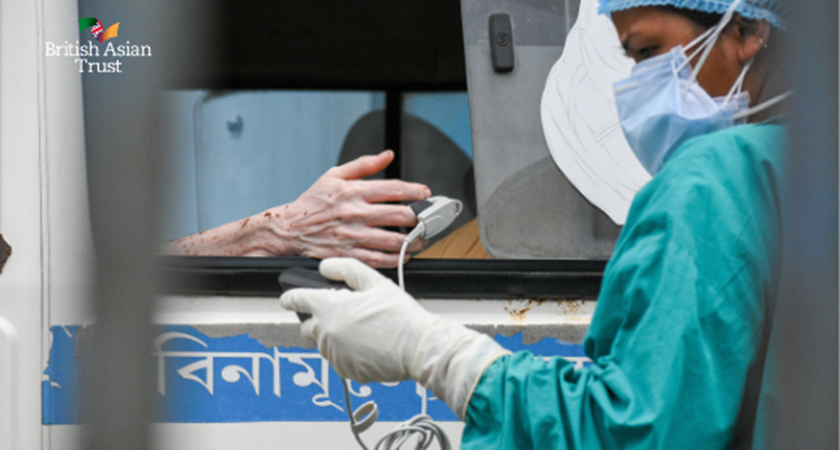 However, we do realise that oxygen alone will not solve this current crisis. There are other pressing needs that need to be addressed, including the shortage of available medical care/diagnosis facilities and equipment, and increasing lack of food among the most vulnerable communities including rural and tribal communities. These communities face the double challenge of not being able to access the current facilities equally but also lack of information or awareness to know what to do once you test positive. 
We saw the effects of this during the first wave of COVID-19 in India when the British Asian Trust focussed on supporting families directly affected by the huge reverse migration crisis. We raised £1m and reached over 130,000 people with life-saving emergency relief support with our partners Goonj and Jan Sahas. In this wave of work, we were able to work with local administrations to identify vulnerable communities who were at greater risk due to the lockdown. These included migrant workers who had lost their jobs in cities and had walked back hundreds of kilometres to their villages; agricultural labourers who had no work and wages; sex workers; and manual scavengers. Our partners provided these families with ration kits that included essentials such as pulses, rice/flour, oil and vegetables.
The huge support from our diaspora has allowed us to move fast, but more needs to be done. We are now going to start supporting grassroots organisations including Goonj, Naandi, UN Women and Swasti. The aim will be to reach those most in need including tribal communities, pregnant women, children and other marginalised groups.
In addition to the above, it has been our aim to provide support to any British Indians in the UK who might need sign-posting to supplies of oxygen, medicines or just a kind word. British Asian Trust staff are members of a Whatsapp group of medics, volunteers and data scientists facilitated by Swasth and we are doing our bit to help wherever and whenever we can – we understand that this crisis has affected everyone across the income spectrum and that this is the moment to ensure we offer support to anyone who needs it.
The British Asian Trust is truly humbled by the scale and intensity of support, kindness and generosity and we will continue to lead this work to the best of our endeavours. 
May 2021.
By Abha Thorat-Shah, Executive Director (Social Finance), British Asian Trust