Anti-trafficking; The story of Amar Lal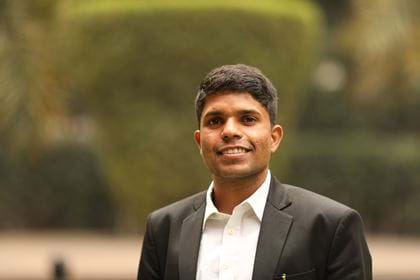 There are believed to be 5.8 million children in India working in forced labour. Amar Lal was one of them until he was given a way out by British Asian Trust partner Bachpan Bachao Andolan (BBA).
Amar was one of six children born to migrant-worker parents from the nomadic Banjara community. The family had no permanent home, no land or cattle and neither Amar nor his siblings ever went to school.
Life was always hand to mouth, so when Amar's father, Sri Devi Ram, fell ill and needed medicine, the family was left extremely vulnerable. When Sri Devi Ram got better, he was grateful to accept contract work even though it meant moving the family to Delhi. But there he was exploited and after a while felt forced to move states yet again – this time looking for work in Rajasthan.
Eventually, he found a job at a stone quarry, where he was responsible for digging and for laying wires. At that time, Amar Lal was only a child but he was working at the quarry too. Sometimes he worked alongside his father and at others his job was to break up the stone and remove it in a trolley.
The work was heavy and extremely hard for a small boy, regularly leaving Amar covered in cuts and bruises.
British Asian Trust partner BBA came to hear about the family and urged his parents to send their children to school. When Sri Devi Ram explained that he simply couldn't afford to do that, BBA told him about the Bal Ashram.
On 1 December 2001, after two years working at the quarry, Amar went to Bal Ashram. It was a place of safety. Education there was informal but Amar was clearly intelligent and the interest he showed in studying meant that after a year he was accepted into a nearby Government school. He did extremely well. Articulate and sharp, he did well in exams and every year he was one of their top performing students.
With the encouragement of BBA, Amar helped to raise awareness about the exploitation of child labour by putting on street plays in poor communities. And since then he has become a major activist, recognised for his work on children's rights and campaigning on the national stage against child labour, child trafficking and child sexual exploitation, as well as the importance of children's access to education.
When Amar completed school, Bal Ashram supported him to enrol in a Law college in Delhi-NCR. He graduated in 2018 and is now working in the Delhi High Court. He works on cases of child labour and sexual abuse and continues to advocate on child rights.
 February 2020