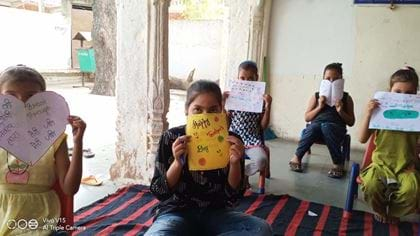 The British Asian Trust and BT have an ambitious three-year CSR partnership that aims to empower 100,000 adolescent girls across India through innovative tech-based projects. These projects are improving outcomes for girls during the critical stage of adolescence, across health and agency, education, and economic opportunities. In addition to working with the young girls directly, partners also work with critical stakeholders, and gatekeepers in the young girls' lives to drive change in behaviour and attitudes to create an enabling and safer environment for adolescent girls.
Haryana in northern India is infamous for gender discrimination, manifesting in gender-biased attitudes, restricted mobility and limited educational opportunities for women as compared to men, who often get educated and find government jobs.
In a village in Jhajjar, Haryana, many men hold high ranks in the army, but women are not allowed to work. For decades, boys in the village grew up believing that only they have the right to study and work. Rohit was one of the many boys who believed this. He attended a school where Breakthrough a partner of the British Asian Trust and BT - ran an intervention providing students with information and education about gender discrimination through their Taron Ki Toli initiative.
Breakthrough India mobilises and inspires people to fight for the rights of women and girls by catalysing leadership in communities to change deep-rooted cultural norms that perpetuate gender-based discrimination and violence. In partnership with BT, they are working across schools in Jhajjar and Gurgaon to build positive gender norms for adolescents to respond to gender-based discrimination and access critical life skills around their aspirations and career.
They work with adolescents through the Taaron ki Toli curriculum which is designed to help students understand gender-based discrimination and its impact, while also building their agency to change these negative norms for themselves, within their families and peer groups, and eventually their communities.
Rohit shared his thoughts during a session on aspirations
"Only boys go to work and that's why they need to study. All girls anyway get married and do nothing else with their future. In my village, this is what happens…If you don't believe me, take a walk with me in the village and see for yourself."
The facilitator took him up on the offer and soon realised the truth of the matter. With no living examples of girls or women studying or in jobs, Rohit and others like him were struggling to understand what a gender-equal world looked like or meant. Hence, for generations, they found it difficult to challenge these discriminatory norms and beliefs.
Breakthrough decided to use audio stories, films and discussions to provide glimpses of a world where women also contributed effectively to the workforce and helped their families. As part of the programme with BT, the team developed various media products including a VR film to help engage girls on their aspirations, and a film Letter to a Father, targeted at fathers on how gender discrimination can constrain girls from attaining their aspirations.
As the discussions on gender rights and entitlements progressed, the team began noticing a change in Rohit's behaviour. He became more attentive and respectful, and even stopped bullying the girls in sessions. In fact, Rohit has now started to teach his younger sister and is encouraging her to study further. He also said that he will talk to his father to ensure his sister studies as much as she wants to.
It is evident that teaching adolescents about gender-based discrimination takes time and can often require a variety of approaches, but the impact of teaching is far-reaching. They not only begin to change their own perceptions and actions, but also challenge gender discrimination within their spheres of influence among peers, family members and eventually - society.
Names have been changed to protect the identities of participants of this project.