How your Ramadan giving is transforming lives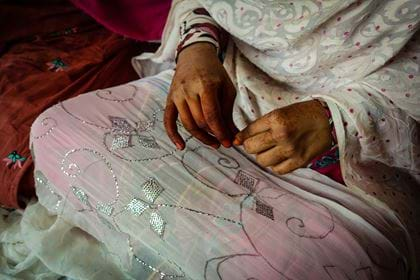 Thousands of women in Pakistan are trapped in a cycle of poverty and lack the vital support and tools they need to become economically empowered. Supporting themselves and their families can be a daily struggle and the idea of setting up and running their own business may seem like an impossible dream.
However, the overwhelming support we received during Ramadan last year has helped us bring hope to women struggling to make their dreams a reality. Through your generous Zakat donations, we were able to provide women with starter kits to help grow their own businesses.  Women like Mumtaz, who was able to gain the skills and confidence to invest in her own future.
Mumtaz's Boutique
A single mother of three, Mumtaz was living on the upper floor of her brother's home with no financial support and many mouths to feed. She stitched clothes for her neighbours whenever they needed it, earning barely enough to feed her children and to send them to school. Despite her hardships, Mumtaz dreamed of owning her own boutique, a dream that seemed unreachable until the day she enrolled in a training centre run by our partner organisation Kaarvan.
There Mumtaz underwent skills training on a fashion design course and began making dresses that she could sell to her neighbours and relatives. She has reinvested her income to buy new material to make embroidered clothes.
Mumtaz calls the small room in her house dedicated to her dresses 'Mumtaz's Boutique'. She now employs twenty workers and continues to grow her business. 
She now earns enough to feed and clothe her children and send them to school. Mumtaz is an inspiration.