Urban Youth Entrepreneurship: Muhammad Mudassir's story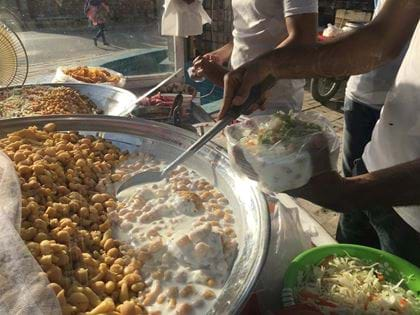 Muhammad Mudassir's father was the sole provider for his family all his working life. When he retired in 2015, the family struggled financially with no other means of income. It was then that Muhammad Mudassir took matters into his own hands and set up a roadside stall with his father selling Dahi Bhalla, a popular snack in Pakistan.
His father predominantly ran the stall while Muhammad Mudassir helped him out. It was at this point that Muhammad Mudassir heard about the LUMS NIC's Urban Youth Project, supported by the British Asian Trust and decided to enrol with his younger brother and friend.
To help their business thrive, they were taught important principles such as management skills, advertising and marketing.
"I directly implemented what I had learnt from the project into the business. Because I developed management skills, I was quickly able to grow the business. Making use of social media and ongoing trends, I have managed to garner a following which has translated into more customers."
As a result, the business started to flourish due to these newfound skills, and to keep up with growing demand, both parents would spend the day preparing the Dahi Bhalla, while Muhammad Mudassir and his brother would rush back from university to open the stall.  
Thanks to their new commercial skills they have managed to expand to four stalls in different locations in the city. The profits not only support the entire household but also pay for two sets of university fees. Muhammad Mudassir is in the first year at the University of Engineering and Technology and stresses the importance of empowering youth through projects like these:
"Before I used to get embarrassed that my friends and fellow students would see me standing at a roadside stall and perhaps judge me but now, I've learnt that this venture is a proper business and feel proud of how we've expanded it."
The British Asian Trust launched the Urban Youth Enterprises Incubator in Pakistan with Citi Foundation in 2016 and continues to be funded under the Foundation's Pathways to Progress programme. This business incubator supports the employment of young people from disadvantaged, low-income backgrounds to develop and grow thriving businesses.