Women's Economic Empowerment: Rehana's story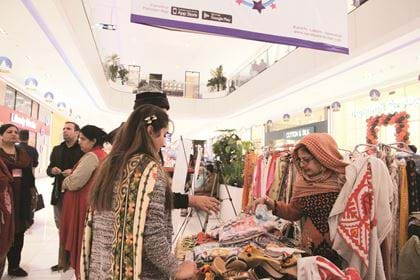 Rehana lives in Chowk Shah Abbas, Multan, Punjab, Pakistan. She and her family survived on a meagre income and Rehana was determined to improve things for her twin sons and two daughters.
Rehana joined our Women's Economic Empowerment programme, run by Kaarvan Crafts Foundation. She was hard working and was encouraged to try out her proposal to start embroidering bed sheets and pillow covers and selling them door to door. She produced good pieces, but at first the money she could make was still not enough to improve things for her family.
The programme was able to help her reach customers and build her business.
First, Rehana took part in an exhibition, where she displayed her work and was able to see how popular it was. Then, getting access to an online commercial sales platform made it possible for her to sell her crafts directly from home.
Rehana has since made a great success of her business. As a result of increased income, her son has also been able to start a business, her twins have completed their schooling, and now her daughter has got married. Rehana has also become a key member of Women Chamber of Commerce and Industry, a group of individuals who believe in the potential of women entrepreneurs in Pakistan. She is focused on sharing her talents and the promotion of women in business in Pakistan.

Our multimillion-pound Women's Economic Empowerment Programme in Pakistan is funded by the UK Government's Department for International Development. We are equipping more than 12,000 marginalised women with the skills, materials and opportunities to get work and grow their own businesses.