Women's Economic Empowerment: Shabana's story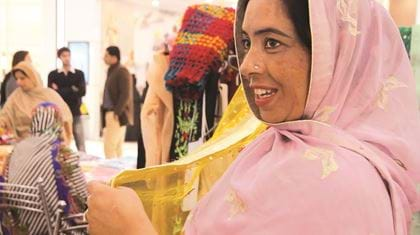 Shabana was brought up in Khyber Pakhtunkhwa province but now lives with her husband in Multan Cantt in the Punjab. Shabana was unable to complete her education when she got married, but she had a skill in hand embroidery that she had learnt from her mother and grandmother.
In 2008, Shabana's husband was without work and the family faced a financial crisis. There were regular school and household bills to pay and Shabana felt she had no choice but to visit her neighbour Irshad and ask for a loan. Irshad was working with British Asian Trust partner Kaarvan Crafts Foundation and she advised Shabana to use her embroidery skills to earn an income. She also told Shabana about a regional craft group and invited her to meet the local coordinator.
In preparation for the meeting with the coordinator, Shabana bought some steel bangles and pearls at the market. She embellished the bangles with a pearl motif and took them to the meeting. Her skill earned her a place on Kaarvan's stitching and designing course.
Joining Kaarvan gave Shabana a great confidence boost. Initially, stepping outside her comfort zone was hard, because of society's patriarchal mindset and her own reservations, but with the full support of her husband she now travels alone to sell her jewellery in cities all across Pakistan – even organising her own selling shows and gaining invaluable insight into the market.
"I cannot even express the satisfaction that I get after standing for long hours at an exhibition but then spending the money on (my) children."
Shabana is currently supporting the education of three sons on her own and hopes that they will grow up to live financially independent lives. She also hopes that some day she will be a well-known designer. She is continuing to work towards both these goals.

Our multimillion-pound Women's Economic Empowerment Programme in Pakistan is funded by the UK Government's Department for International Development. We are equipping more than 12,000 marginalised women with the skills, materials and opportunities to get work and grow their own businesses.