Women's Economic Empowerment; Farhana's story
Farhana was living a good life with her children and her husband, who is a rickshaw driver. Their situation changed for the worse when her husband was diagnosed with diabetes and the expenses for her disabled daughter started increasing. She therefore decided to support her husband to manage the family's expenses.
Since she was young, she had watched her mother stitch clothes and manage household expenses. She heard about Aman Tech's skills learning programme and decided to join. It was not an easy decision as she faced negative comments from relatives, but her husband encouraged her to sign up. She was lucky that Aman was providing a free transportation facility that saved a lot of travelling time, as she had other responsibilities to take care of at home.
After completing her training, Farhana secured an internship at Mehran Enterprises, a garment factory in Karachi. Due to her hard work and dedication during her internship, she was promoted to sewing machine operator on a monthly salary of PKR 16,000. She states "It was a difficult journey, but worth the effort. My income helps secure a better future for my children. My children are young, so I plan to save for their future as well. I want them to be successful in life." Farhana is proof that with effort and dedication, women can not only support themselves but also set an example for other women who face cultural stereotypes.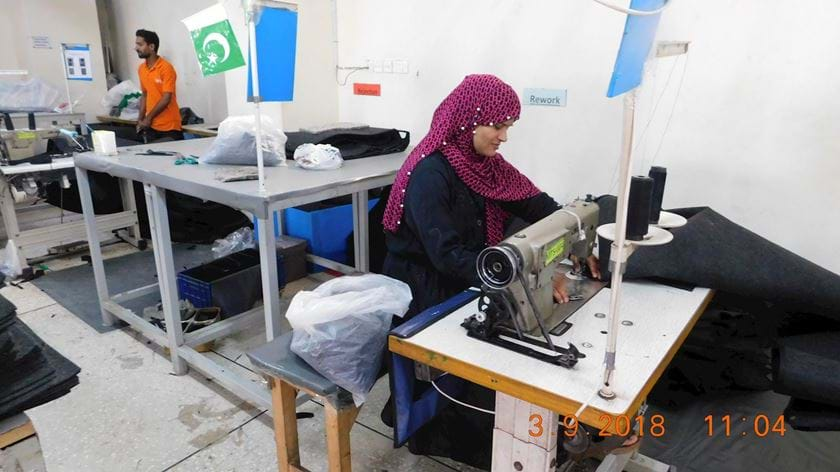 Our multimillion-pound Women's Economic Empowerment Programme in Pakistan is funded by the UK Government's Foreign, Commonwealth & Development Office. We are equipping more than 12,000 marginalised women with the skills, materials and opportunities to get work and grow their own businesses.