If I Can, She Can: Noreen Khan's story
An example to others  
Noreen lives with her husband and children in Karachi. A daily wager, her husband rarely made the effort to find work. He was also addicted to gutka (a chemically manipulated form of chewing tobacco) and routinely abused Noreen, often beating her in a fit of rage; throwing her out of the house or forbidding her to go outside. Their frequent arguments affected the well-being of their three children and her son's performance at school:  
'I lived in very challenging circumstances. We had no money. Our fights continued, affecting our children. When there is poverty, such things happen'.  
Noreen considered a Khula (request to divorce) but gave in to societal pressure to keep the family together. Once, after an argument, she returned unwell to her parents' home, with no money to buy medicine. She said:  
'I couldn't bring myself to ask them for the money. I was sick of asking them all the time. I felt so helpless. I will never forget that day'. 
Building on her creative skills, she took a dressmaking course run by a British Asian Trust partner and began making clothes to sell from home: She said:  
'I am [now] managing the household myself and able to pay for school fees and other things for my children'. And of her marriage: 'Now, we fight rarely because I can support myself and my children financially'.  
The COVID-19 pandemic and lockdown has affected Noreen's business, but her training has equipped her with the confidence and skills to manage the ups and downs. She also teaches other women to become skilled tailors and to find an income. Celebrating her self-reliance, she said: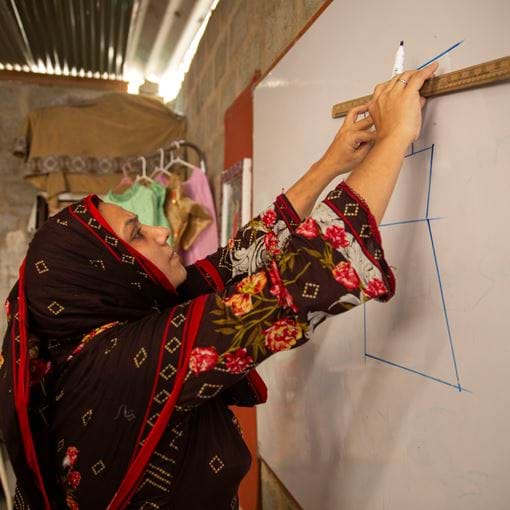 '…. I am independent. I can stand up for myself. I give training now, thanks to everything that I have learnt….I have [also] made a name for myself in my area; girls like coming to me for training'.  
Noreen is an advocate for the empowerment of women in her community:  
'I encourage other women to get training as you never know what life will bring your way and circumstances will change.' 
Help us to create opportunities for women like Noreen, by donating to our 'If I Can, She Can' Aid Match Appeal. Donate before 31 May 2021 and your gift will be doubled by the UK government to support people in the poorest parts of South Asia, particularly women, whose lives have been devastated by COVID-19.

Match funding from the UK government will be used to fund our innovative Women's Economic Empowerment programme in Pakistan, to equip women with the skills, knowledge and confidence needed to find a job or start their own businesses in a post-COVID world.