If I Can, She Can: Sadia's story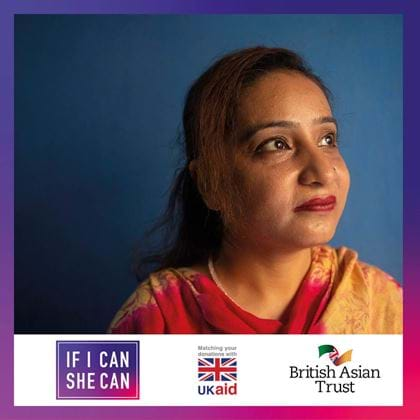 Fulfilling her dreams   
Sadia Qasim, 35, married at a relatively young age and lives in Karachi with her parents-in-law, husband and three children.
As her husband's salary did not stretch to cover all the family's expenses, Sadia often put her children's needs before her own. It was very difficult to manage the extra cost of major events or weddings and the family could only afford the minimum to celebrate even important events such as Eid. Due to the strain on their finances, Sadia decided to earn some money herself and with her husband's support, she invested in a beauty therapy training course run by a British Asian Trust partner.
Starting her journey, Sadia faced a lot of hardship. Rising at sunrise, she only left the house after getting her children ready for school and fulfilling all her household duties. After training, she would return home to make bread and rice for her children. She never wavered in looking after her family, despite the long days. When some community members felt she should stop studying she reflected:
'People used to say that I should concentrate on my children and stop the courses. I listened and ignored their remarks because I thought that the only way to achieve success, is to learn and move forward.'
Sadia dreamed of opening her own salon and was delighted to secure a government loan as one of just a few people awarded with a loan from a pool of 10,000 applicants. She opened a small salon at home with an income ranging from PKR 8,000 (£36*) at more fallow times, to PKR 25,000 (£115*) during the wedding season. As she started making money, so she and her husband began sharing their financial responsibilities. She said:
''Now that I'm earning money myself, I feel more of an equal partner with my husband in sharing the financial burden. I thought if we both work and earn, it will turn our life to [the] better'.
Sadia's training and skills along with a loan to start her salon have made her more confident with customers and in business. She passionately believes that women should be able to work and contribute to the economy. In future, Sadia would like to expand her business by opening a shop outside the home and create opportunities for other women in her community to earn a living. She said:
'When I completed the course, I got the power and confidence [to] …work and move forward. Today, a woman must be independent. I would advise girls to learn a skill to [find] a source of income. All women should work alongside men to move forward in society; that is the only way we can progress'.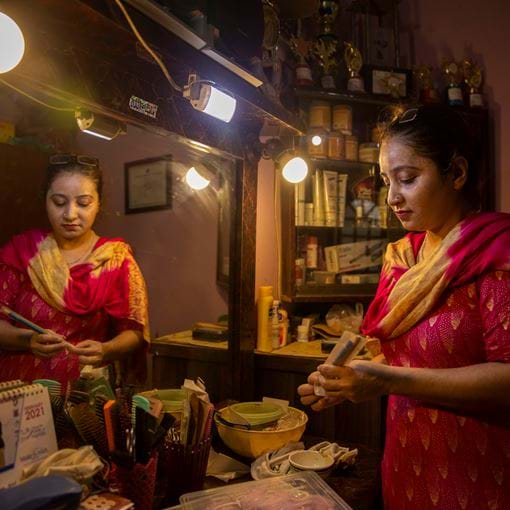 Sadia followed her personal dream to earn her own living. Her vision is of a world where women can be recognised for their contributions to the economy. 
*Pound sterling figures approximate at the time of writing 
Help us to create opportunities for women like Sadia, by donating to our 'If I Can, She Can' Aid Match Appeal. Donate before 31 May 2021 and your gift will be doubled by the UK government to support people in the poorest parts of South Asia, particularly women, whose lives have been devastated by COVID-19.  

Match funding from the UK government will be used to fund our innovative Women's Economic Empowerment programme in Pakistan, to equip women with the skills, knowledge and confidence needed to find a job or start their own businesses in a post-COVID world.