Women's Economic Empowerment; Zakia's story
Zakia is a 43-year-old widow, who lives with her daughter in a village of Bahawalpur, Basti Hooria in Punjab. She had a very happy married life with her husband but his sudden illness and later his death impacted her life severely. Her in-laws put pressure on her to leave the house. At that time, her daughter was in school and not only did she have to take care of her family's routine expenses but also the expenses of her daughter's education.
To support herself and her daughter, she started making traditional embroidery outfits. She enrolled herself in Kaarvan Crafts Foundation's (KCF) training for enterprise development and learnt production planning and file management. She attended buyer-seller meetings arranged by KCF, that helped her in getting a permanent contract with Zia Silk Center, one of the biggest shops in Bahawalpur, for outfits with mukesh (silver wire embellishment).
Now she earns around PKR 10,000 (£48) per month for her embroidery work. She considers her income sufficient to live with dignity and to support her daughter and herself.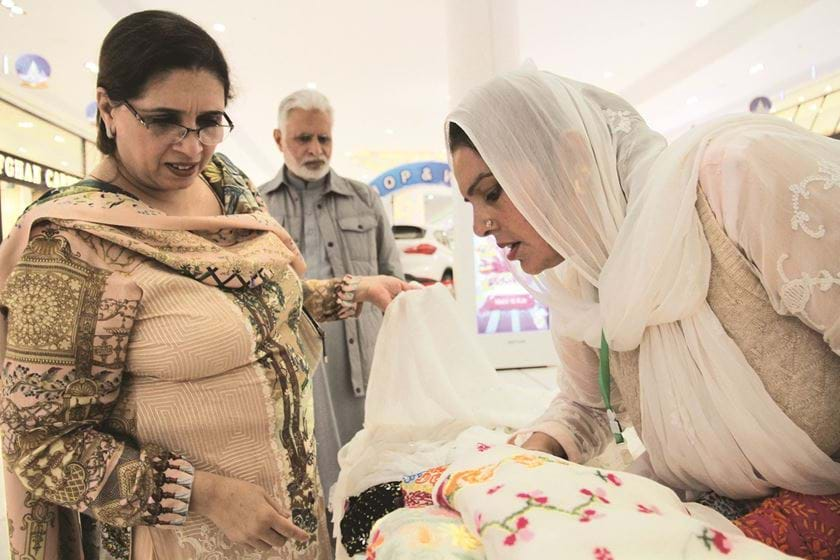 Our multimillion-pound Women's Economic Empowerment Programme in Pakistan is funded by the UK Government's Foreign, Commonwealth & Development Office. We are equipping more than 12,000 marginalised women with the skills, materials and opportunities to get work and grow their own businesses.