Breaking Barriers: Agri-Entrepreneurship in Pakistan
The agriculture sector is currently one of the largest employers of women in Pakistan and contributes over 21% to its national GDP. However, the vast majority of women working in agriculture face a variety of structured gender inequalities that prevent them from accessing skills, resources, and markets that would help improve their security and income. Furthermore, the COVID-19 pandemic has had a detrimental impact on communities, with increasingly large numbers of people falling into poverty due to loss of jobs, lowering revenues and shuttering of small businesses.  It is essential that we respond to the tragic loss of livelihoods and economic opportunities for marginalised communities in rural Pakistan and support the strengthening of rural entrepreneurship.
The British Asian Trust recently celebrated the Agri-Entrepreneur Project Launch Event with the support of Standard Chartered Foundation. The immediate aim of the Agri-Entrepreneur Project is to address the devastating impact of the COVID-19 pandemic and improve the livelihoods of marginalised youth and women in Punjab and Sindh, supporting them to become more resilient to multidimensional poverty.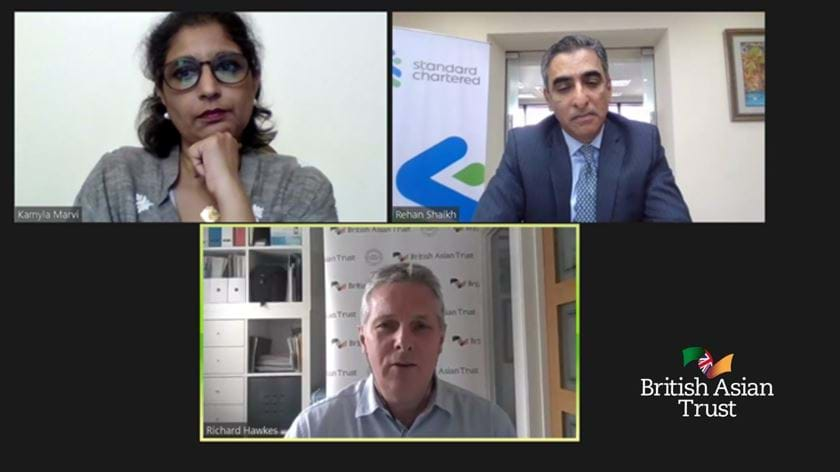 'Standard Chartered Bank in Pakistan has been supporting the work of the British Asian Trust since 2018…We are very excited to further build on this partnership and look forward to future collaborations' 
Rehan Shaikh, CEO, Standard Chartered Pakistan
The event was opened by Richard Hawkes, Chief Executive of the British Asian Trust and Rehan Shaikh, CEO of Standard Chartered Pakistan. Kamyla Marvi, Pakistan Director of the British Asian Trust presented an in-depth project briefing that highlighted the need for women and youth in rural areas to be provided with the entrepreneurial skills to create sustainable livelihoods. Khadija Hashimi, Head of Corporate Affairs and Brand & Marketing at Standard Chartered Bank moderated the panel discussion, which was joined by panellists such as Natasha Kwakwa, Global Head, Community Programmes & Impact, Group Sustainability at Standard Chartered Bank, and the two implementing partners, Bilquis Tahira, Executive Director at Shirakat, and Suleman Abro, Chief Executive of Sindh Agriculture and Forestry Workers (SAFWCO).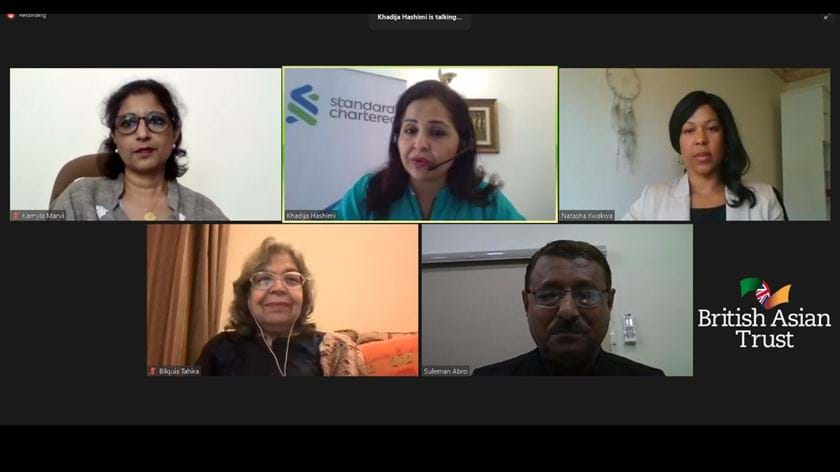 Key Highlights
The Agri-Entrepreneur Project is an enterprise development project which will focus on supporting young people in the 18-to-35 year age range, in which 85% are women, to develop and sell products in agricultural value chains with strong local potential. These young entrepreneurs will receive technical and business training, support on branding and marketing, as well as access to microloans and seed funding of up to PKR 20,000 through existing providers.
The main outcome of this 18-month project is that all the young people enrolled in the programme will have established a sustainable business and have increased earnings of PKR 1,000 per month. This project is unique in its application of entrepreneurship support for women from the agriculture sector. In many ways this project breaks gender stereotypes of a woman's role in rural communities, from vulnerable and exploited, to economically empowered.
The event also presented the exciting opportunity for a panel discussion with the two implementing partners, Shirakat and SAFWCO, as well as Standard Chartered Foundation on 'Insights from the field'. This involved critical conversations around challenging traditional gender norms in society and the concept of gender empowerment in rural Pakistan. Although agriculture is essentially the backbone of Pakistan, traditional gender power dynamics within agriculture ensure women bear the burden of a continuous work cycle without the benefits of a strong socio-economic standing.
The Agri-Entrepreneur Project aims to give women control over their own economic decision-making and livelihoods. We look forward to gaining more of an insight into the learnings and outcomes of the project and its contribution towards establishing a comprehensive approach to agri-enterprise growth for women and youth.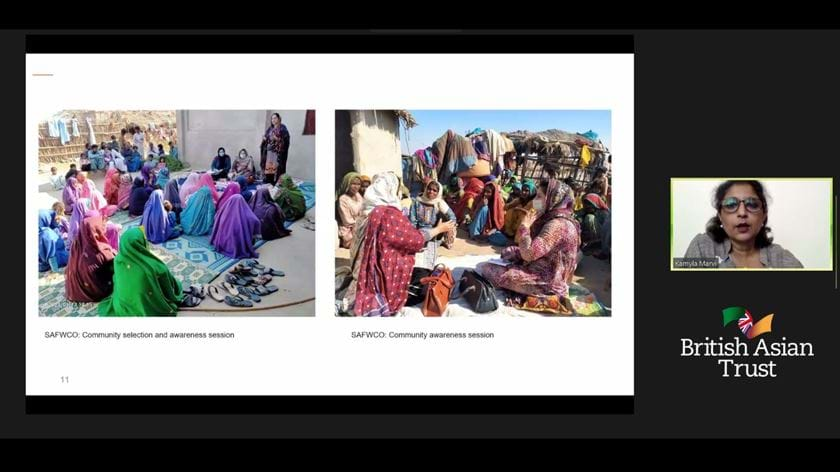 'This project is as much about increase in income at the household level as it is about changing gender norms in rural areas and finding innovating ways to address rural poverty'
Kamyla Marvi, Pakistan Director, British Asian Trust
By Zara Hussain
Operations and Programme Administrator, British Asian Trust
March 2020