Katy Perry appointed British Asian Trust Ambassador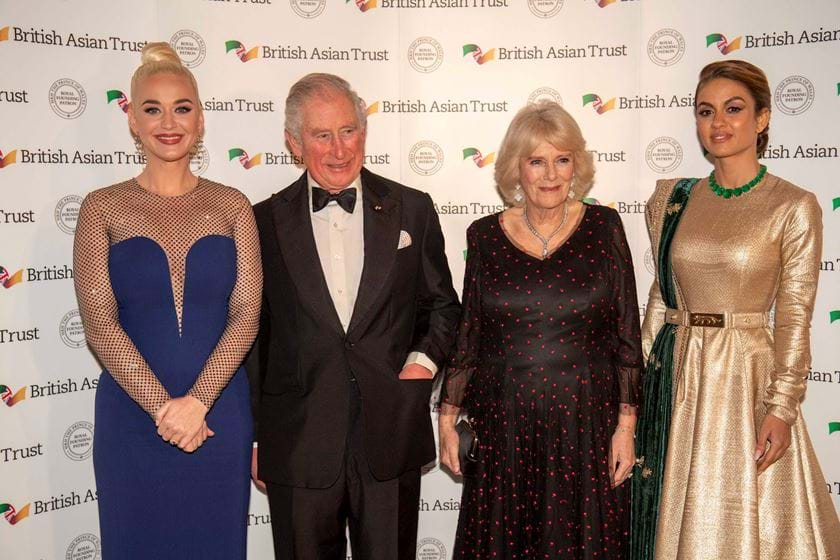 We are excited to announce that the renowned female artist and global pop superstar Katy Perry has recently been appointed as Ambassador for the British Asian Trust, specifically to support our work reducing child trafficking and abuse across India over the next five years. 
Our new Children's Protection Fund will be chaired by India Advisory Council member and long-term supporter of the Trust – Natasha Poonawalla - whose generous multimillion pound pledge in support of the Fund has greatly enabled its development. We are also grateful to our partner, the Children's Investment Fund Foundation who will match fund everything raised up to £25m.  Donate towards our work now
Katy Perry took the opportunity to express her support at the British Asian Trust's recent Royal Annual Reception and Dinner attended by Their Royal Highnesses The Prince of Wales and The Duchess of Cornwall at Banqueting House in London where the announcement was made.
Here she was welcomed by His Royal Highness The Prince of Wales, amongst a host of over 200 distinguished supporters including British Asian Trust ambassadors, politicians and business leaders. The Prince of Wales delivered a keynote speech, as well as Amar Lal, a survivor of child labour- whose personal experience highlighted the horror and injustice of child labour. Read about he turned his life around to work as a lawyer on cases of child labour similar to his own.  Donate towards our work now
Having met the Prince of Wales in 2019 at a meeting in Mumbai of British Asian Trust supporters and advisors and already a champion for children's rights through her work as a UNICEF Goodwill Ambassador, she was keen to show her long-term support for the organisation's work to combat child labour in India after learning about the Trust's anti-trafficking work. She expressed her enthusiasm to get behind this cause, and to help the British Asian Trust saying:
 "I am especially honoured to be named an ambassador for the British Asian Trust and to use my voice to shine a light on the work that the British Asian Trust will be doing in South Asia, and to be a part of finding solutions to protect children from exploitation and abuse.  Children are vulnerable and innocent and have to be protected."
There are believed to be 5.8 million children working in forced labour in India and tens of thousands thought to be working in hazardous workshops in Jaipur alone, producing goods including bangles, embroidery and other products, with many forced to work for up to 15 hours a day.  The British Asian Trust has been working with business, government and civil society, to remove child labour from supply chains and encourage child labour free products in markets as part of the Child Labour Free Jaipur Initiative.  As a result of a partnership with the Freedom Fund and the Children's Investment Fund Foundation, the first conviction resulting in a life sentence for a child trafficker in Jaipur was achieved in 2019 – a hugely significant milestone. Two further life sentences for child labour offenders have followed.
Donate towards our work now
We look forward to working with Katy as part of our future plan to substantially reduce child labour in India. Over the next five years, as part of our partnership with the Children's Investment Fund Foundation, we plan to develop the largest anti-trafficking Fund ever seen in South Asia, so as to substantially reduce child trafficking and abuse across India.
February 2020